Black Friday can be slightly chaotic (to put it lightly) and gets a lot of negative press, but people still do it and some just can't understand why. In this post, we explore why you should go get out of bed early on Black Friday and face the lively crowds. Starting with brilliant door-busting deals, which are only available in-store, to amazing discounts and heavily reduced limited items, there is many a reason to join in the chaos.
Great Door-Busting Deals
'Door-busting-deals' are essentially a strategy to get customers into a shop. By offering a limited number (say the first 100) of heavily reduced items (like a 50% off TV, for example) customers are literally busting the door down to get such a steal. Yeah, it can get slightly out of hand, but it's in keeping with the crazy Black Friday spirit, isn't it?
When else in the year are you going to get such a great deal on a TV or that espresso machine you've been really wanting, but just couldn't justify the expense? If you can handle waiting in lines and dealing with a bustling crowd, shopping on Black Friday is totally worth a few hours of inconvenience and headache. Just don't forget the Ibuprofen.
Incredible In-Store Discounts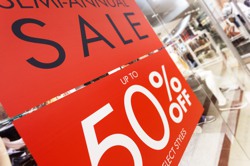 Black Friday originally started as a way of kick-starting the Christmas shopping spree after Thanksgiving in America. By greatly reducing the prices of in-store items, retailers are able to get a large volume of customers into their shops.
In order to do this, they advertise some pretty amazing in-store discounts. Yeah, they have deals online too and many of these discounts will be available there too, but a fair few are available in-store only.
Gift Card Give-Aways
In America, certain stores will offer gift cards to the first, let's say 100, for example, shoppers to come through the door. The gift cards might range from $5 to $100 or even more. These stores are likely to see a queue of people going down the street, as everyone wants the chance to win free money. Apple even did a promotion in 2014, where if you bought specific products from them on Black Friday, you'd get $100 to spend on iTunes.
Whilst there hasn't been any of these gift card deals here in the UK yet from what we've seen, as Black Friday gets bigger and bigger, we project that these will soon make an appearance in the UK. It took us a while to adopt the infamous shopping day, so now we're just patiently waiting for the gift card give-aways to appear. We predict that we will see these in the next year or so, so keep your eyes peeled!
Christmas Shopping Done in One Day Whilst Saving Money
Black Friday gives us the opportunity to get our Christmas shopping done in one swoop, whilst saving a ton of cash. We all know that December can be a pricey month what with throwing parties, drinks at the pub, dinners with friends you haven't seen all year, secret Santa gifts at work, not to mention the plethora of gifts for all of your friends and family.
Not only are Christmas gifts expensive to buy, but they are time consuming. Thinking about what to get people, wandering 'round the shops all month – it gets old really fast. And, let's face it, the shops are crowded throughout the entirety of December, so we might as well go on Black Friday and get a good deal at the same time.
Be Part of the [Chaotic] Community
When was the last time you saw an old grandma scurry across a shop hunched over with her cane to get a good bargain? Or a housewife using her baby's stroller as a pawn to block other shoppers from reaching the last discounted box set of Downton Abbey: Season 5 on the shelf?
Black Friday is crowded and just plain right chaotic, but that's why we love it. It wouldn't be the same if everyone just got along perfectly and patiently queued, now would it? We're not suggesting it's good that everyone goes so mental, but being part of the crazy community means never a dull a moment and interesting tales to tell your grandkids one day.