For the person who has everything, an experience makes the perfect Christmas gift and with a few companies offering special Black Friday specific deals on experiences and most offering special offers throughout the year, you're sure to find some amazing deals. Experiences can range from days out driving super cars, weekend escapes escapes for two, luxurious spa days, wine tasting in the countryside, London theatre deals that include a pre-theatre dinner, and everything in between.
See Also: Travel
This Years Best Experience Sales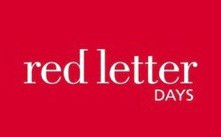 Red Letter Days - 80% Off Selected Experiences + 20% Off Code
Red Letter Days have reduced the price of selected experiences by up to 80%. Additionally, you can also save 20% on all experiences on top of this with the code AFFREDFRI20.
Latest UK Black Friday Offers For 2023
Shops With Experience Offers
Where to Find Black Friday Experience Deals
They say that if you want to feel truly rich then you should spend your money on experiences. Of course the people that say that probably haven't had to survive on a tin of beans and some orange juice, but the point still stands. When you are looking back on your life in your dotage years you won't remember the television you bought or the stereo you listened to, but you'll almost certainly be able to recall the time you went sky diving or drove in a racing car.
That's what makes experience days such a worthwhile gift and there are a number of companies we'd recommend that you keep your eye out for this Black Friday. Whatever experience it is you're hoping to enjoy or buy for someone else to enjoy, here's a quick guide to the best websites you'll want to be heading to.
Virgin Balloon Flights
The clue really is in the title with this one. Virgin, known for trains that travel the length of the country and rock from side as well as top-class air travel that can take you anywhere in the world, also offer brilliant balloon flights that are an experience not to be missed. Proof, were it needed, that its not just politicians who are full of hot air.
With 140 launch sites throughout the UK, we'd be very surprised indeed if you didn't find a site that was suitable for your flying needs. The flights run in the mornings and evenings from March to October, though of course you can buy them all year round. Float over breath-taking landscapes and celebrate with a traditional Champagne toast after landing. You'll also receive a certificate endorsed by Sir Richard Branson himself from your take-off point. Excited yet?
When it comes to Black Friday Virgin Balloon Flights will have three exclusive offers available for that day only, so you'd be mad not to check them out. One of those will be an extra special deal that will only be available to the first 100 people, so be sure to have a look as early in the day as possible. Whether you're looking to pick up a deal for yourself or as a treat for someone else, this is a chance you shouldn't miss out on.
Buyagift.co.uk
If you've got a birthday coming up or a more comprehensive occasion, such as Christmas, you might consider buying a gift or two. If you can think of a better website to help you do that than one called buyagift.co.uk then you're better people than we are. They have amazing deals on all year round with nice small experiences, such as a three-course meal and glass of wine for two at Prezzo, as well as bigger exciting days like a helicopter flying lesson.
On Black Friday, those discounts will be ramped up even further and the discounts will be even more impressive. There will be pampering days, dinners, chances to drive super cars like Lamborghini's and more all for incredible prices. You may be able to go skydiving indoors, cruise along the Thames or even go up the Shard and enjoy a Michelin starred dining experience, should any of those things tickle your fancy.
As we say, though, the site has brilliant deals on all year round so don't think that if you miss out on stuff on Black Friday then that's your lot. The name buyagift.co.uk isn't an exaggeration and the gifts you can be will not be a disappointment to the recipient. Especially if you buy them as a treat for yourself.
Last Minute Experiences
Last Minute made their name offering hotel deals for people who wanted to book rooms at…well…the last minute. They've since branched out to other things like holidays and, you guessed it, experience days. They may not be offering Black Friday deals as such, but they do offer some of the best prices on the market all year round and their experiences are pretty exciting.
How do you feel about taking a flying lesson? Does the notion of shooting clay pigeons sound like a fun one? Have you ever been bungee jumping? What about going on a land yacht or soaring down the longest zip wire in Europe? If you're after something more sedate then you might want to have a look the Grand Tour of the Royal Albert Hall, complete with afternoon tea for two. Perhaps a makeover session and photo-shoot might float your boat or, failing that, a three-course lunch for Two at the Ritz in London.
In short, if you're after a brilliant experience at a decent price then Last Minute's Experience site will almost certainly have you covered. With numerous options set out in a nice fashion that is easy to navigate, it will hopefully be easy for you to find said experiences too.