If you are in the market for a gaming chair, look no further! There are plenty of gaming chairs out there with some fantastic sales over the Black Friday period. Whether you want a chair that lights up, includes speakers, has a massage feature, or just a standard comfortable chair to give your back support whilst gaming, there are endless options available. If you are unsure, have a read of our buying guide for some tips on what to look for.
See Also: Gaming PCs & Laptops | Gaming Consoles | Headphones | PS5 | Xbox Series X & Series S
Shops With Gaming Chair Offers
Gaming Chair Buying Guide
The entire point of the very best video games is that they are immersive, dragging you into the world that they have created in order to make you forget about everything else. You can spend hours on end playing the very best games, either because the makers have perfected their world-building or because you're playing a game like EA Sports FC and are determined to finish the season before logging off. The problem is that time spent doing the likes of playing such immersive games can leave you in all sorts of pain and discomfort if you're not using a suitable chair.
Gaming chairs, as the name suggests, are designed to be used by gamers and using an ergonomic gaming chair can be essential for your long-term health if you're going to be spending hours using them. The best chairs should be designed in order to ensure that you have a healthy posture whilst you use them, which is why they can often be found not just in the homes of gamers but also in the likes of workplaces and home offices. Some gaming chairs have other advantages over normal chairs that can only be appreciated by gamers, which is why picking the right one matters.
What You'll Be Using the Chair For
If you're thinking of buying a gaming chair, one of the first things that you need to think about is what you'll be using it for most of the time. There are a huge amount of options out there when it comes to chairs that gamers can make use of, but the fact that the best gaming chairs are also used by office workers means that you might not be buying one purely to play a bit of Call of Duty. The type of chair that you're going to end up looking for if you're buying one purely for the purpose of gaming will be different from if you want to use one for more than one purpose.
A game that is designed solely for gaming will often a bit more colourful, to say nothing of the fact that it might have features that are specifically for gamers such as speakers around the headrest. If you're looking for a chair that is mainly going to be used in your office, you will probably want one that is a little bit less garish and is more likely to focus on numerous different ergonomic features, such as how your arms rest when you're using a computer. How long you're likely to spend in the chair will also be something you'll need to consider, based on what it will offer.
A chair that is going to be used for hours on end will doubtless benefit from lumbar support, as an example, as well as a backrest that can be reclined. You might want to ensure that the armrests are adjustable and that the comfort of the chair is high on the list of factors. On the other hand, a chair that is only going to be used sporadically might be better-suited to your needs if it has design factors that are aimed at gamers, with the likes of ergonomic factors being of secondary importance to you. Only you will know how the chair is likely to be used, so bear that in mind.
Do You Want Them to Be Flashy?
Nowadays, it is not unheard of for gamers to stream themselves online, allowing others to see what it is that they're up to with their time and how they're playing the various games that are the most popular. Live streaming from gamers can be huge in terms of numbers, so the people doing the streaming are more likely to want to do what they can in order to make sure that they're not only gaining people's attention but also keeping it. One of the ways that they can do that is by having a gaming chair that is flashy and extrovert, perhaps covered in colours and exciting features.
Gaming chairs might be used in an office, but more often than not they're going to be in someone's bedroom or spare room, meaning that they don't have to be as dull and drab as the types of chair that you'd usually see around an office environment. Companies such as SecretLab tend to offer both types, with some models having both plain looks to them and also more gregarious ones. Even if you're only going to be using it in a home office, you might still want to add a little bit of fun and flair to your working life by picking a chair with a bit of colour and design excitement.
Gaming Chairs Aren't Cheap
The reality of gaming chairs is that they don't tend to come cheap. You would do well to do your chair shopping during the likes of Black Friday, picking one up on a deal that lets you get it for cheaper than you would the rest of the time. The reason they are more expensive than a generic office chair is that they offer a lot more features, which don't tend to be found in a standard chair in an office. Gaming chairs are sculpted in a way that puts an emphasis on their ergonomic qualities, which become important when you're using them for a long period of time.
They offer thicker padding on the seat part of the chair, for example, with high-density foam often used in their construction. The backrests also tend to be taller, which allow for better support for longer periods than the chair backs that tend to finish about halfway up your back. As time has gone by, more and more companies have realised that there is money to be made from creating quality gaming chairs, so the likes of Corsair, Brazen and Noblechairs joining established brands such as SecretLab in order to ensure that there is a wealth of choice out there for users.
The Benefit of Using a Gaming Chair
You might well wonder what the actual benefit of using a gaming chair might be. It is important to be clear from the off: using a gaming chair in and of itself is not a guarantee that you will get better at the games that you like to play. You can buy the most expensive gaming chair in the world, but if you don't spend time learning the intricacies of the controls to a game like EA Sports FC then you're still going to lose every match that you play against your nephew or get killed by your sister each time you load up Call of Duty and start a game.
What a decent gaming chair might allow for, though, is the fact that you will have a better posture, meaning that you're less likely to end up in pain than if you use any other chair type. They are designed in order to support areas like your neck, lower back, shoulders and more. The best ones have back support that encourage much better sitting posture and put your spine in the right position, stopping you from slouching or developing a poor posture. In turn, this will mean that you'll be more likely to play for longer and, potentially at least, improve your gaming ability.
Materials Matter
When you're looking at a chair for gaming, you will need to consider the material that it is made from. If you're going to be spending hours in pretty much the same position, the likelihood is that you're going to sweat quite a lot, for example. A chair that is made from the wrong material can end up encouraging this sort of thing, which can become problematic over time. A gaming chair is typically made from the likes of PVC or even leather. Whilst this material might not discourage sweating, it will usually be easier to clean and keep in good order, which is better.
A leather chair will be more expensive from the outset, also requiring an additional spend on the right materials, but it will be long-lasting as a result. It isn't unheard of for gamers to enjoy eating some crisps or other trashy food whilst they play, so having a chair made from the sort of material that can be easily cleaned will save you time and also ensure better hygiene. Gaming chairs are typically going to be much more durable than office chairs, with a longer life expectancy as a result. This could save money in the long-term because you won't need to buy a replacement as quickly.
Think About Your Body Size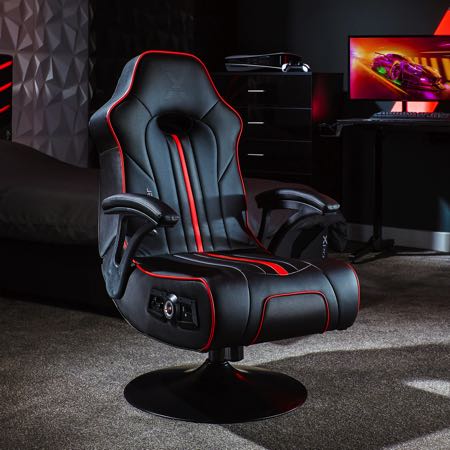 We might all like to be in denial about the size and shape of our body, some wanting to be taller, others thinner and occasional hoping to be a bit heavier. Whatever our personal situation, we need to have a realistic sense of what our body shape is like in order to pick out the correct gaming chair. Each company will have a guide to which model is the right one for which body type, with weight and height being the two most important factors. This is because they will be designed to be able to cope with a certain amount of weight, for example, as well as support your body correctly.
A gaming chair with lumbar support will have said support in a specific position, so if you pick one that is designed for someone much taller than you then you're going to find that the lumbar support isn't actually supporting you where it should. Most gaming chairs will have some adjustable qualities, but the main parts of them will still be designed for those that fit within a specific bracket, so if that isn't you then you will likely find that most of the features that make the chair so useful don't work properly, meaning you won't get the most out of it and won't be as comfortable.
Checking Out the Mechanics
A decent gaming chair will have mechanics that are designed to ensure you're as comfortable as possible. 'Mechanics' might make it sound a bit serious, but in reality it's just another way of saying that the parts of the chair can be adjusted. A chair that can rock back and forth can be used to relieve the muscles in your back, for example, making it more useful than one that remains stiffly in place. Some chairs will have armrests that can be adjusted, which can be useful if you're hoping to use it both as a gaming chair and whilst typing on a computer that is located on a desk.
The lumbar support, which is a feature that we've mentioned before, is a support that is ergonomically designed. In some chairs, this can be adjusted up and down and in and out, which will allow you to get it into the right position for yourself to be as comfortable and useful as it can be. Similarly, your backrest might be adjustable in order to get it into the perfect spot in order to offer you the best possible support. Finally, most chairs will have the ability to move up and down, which can help to alleviate any stress and strain on your legs by getting them into a more comfortable position.
Gaming Chair or Console Chair?
The final thing worth mentioning is that there is a difference between a gaming chair and a console chair. A gaming chair is aimed at people that tend to play games on the likes of a PC, which is why it can also double-up as an office chair. They are typically smaller and take up much less space, being designed to fit into smaller areas such as in front of a desk. This usually means that they are lighter and created with space in mind. Console chairs, on the other hand, are often bigger, with designers knowing that they are going to be used in a location where space is less important.
Console chairs might have the likes of speakers in the headrest or the ability to hook them up to your gaming device so as to vibrate or offer some other interactive feature. You will know which one you have room for and what features you want to be able to make the most out of your gaming experience, but looking towards the right chair is crucial to making sure that you are as comfortable as possible. Console seats, for example, can sometimes have storage space for things like controllers and cables, which can help reduce clutter in your room or office space.