We use smart phones these days for pretty much everything – music, texting, maps, social media, emails – so, given how much we use these devices, it's normal to run out of battery by the end of the day. If you're on the go, this can be quite annoying, so that's where portable phone chargers, or power banks, come in handy. Just pop it in your bag, so when you're out of juice, you can re-charge and still call that Uber home. With so many to choose from on the market, it can be a wild guess when it comes to choosing one, so we've jotted down the most popular brands below with some useful tips on what you should look for when making your purchase.
See Also: Wireless Chargers | Smart Phones
Latest UK Black Friday Offers For 2023
Shops With Portable Charger & Power Bank Offers
Portable Phone Charger / Power Bank Buying Guide
Since Apple first released the iPhone in 2007 smart phone technology has come a long, long, way. Today we use our phones for virtually everything, from watching TV, to controlling the heating in our home. In fact, the ability to make phone calls is probably the one feature of a smart phone that is used the least! However, whilst smart phone technology has moved at a rapid pace, battery power has struggled to keep up. That's because we are still using the lithium cobalt batteries that we started using in the 1990s, and we have reached the limit on how much energy we can safely get out of them.
Scientists and engineers are working on the problem, looking at alternative materials, but in the meantime, we are stuck with lithium batteries that simply can't keep up with our demands, which is why portable chargers, also known as power banks, are a vital piece of kit for heavy smart phone users.
What Is a Portable Phone Charger / Power Bank?
As the name implies, a portable phone charger, or power bank, is a device that can recharge the battery on your smart phone. However, they're not just limited to phones, as they can charge pretty much anything that is capable of being charged by USB, such as your wireless headphones, portable LED lights (for camping etc), and even the Nintendo Switch. Most are small enough to place in a large pocket or handbag, so you can get the peace of mind that comes from knowing you can charge your device whenever you are away from a plug socket.
Benefits of a Portable Phone Charger
There are few things more frustrating than trying to make an urgent phone call and it disconnecting halfway through because you have run out of battery. With a portable phone charger, you are able to get the extra juice needed to make your smart phone battery last all day, with some being capable of doing multiple charges. For some people, a guarantee of battery power is vital. For example, hikers going into remote areas need to make sure that they have the ability to call for help if required. Doctors who are on call need to make sure that they are contactable even if they are planning on being out of the house for the day.
But it's not just about your smart phone. As mentioned above, portable power banks can charge a myriad of devices. If you are doing a long journey with the kids then you can use them to charge their portable games consoles or tablets. If you are a keen photographer, then you can use them to charge your digital camera. And, when you are camping, they are a useful power source for all your devices, including lights, portable speakers, fans, and GPS devices.
Different Types of Portable Phone Chargers
There's a huge range of portable phone chargers on the market. Some are designed to simply give one device, such as a smart phone, a quick recharge, whilst other, more powerful power banks can charge multiple devices at the same time and are ideal for travel. Some are capable of charging devices very quickly, whilst others take a lot longer. These devices vary in size, and some include extra features, such as built in cables and LED torches.
Popular Brands of Portable Phone Chargers
The online market is flooded with portable phone chargers from brands you have probably never heard of. One thing to absolutely bear in mind when purchasing one of these devices is safety, since some portable chargers have been linked to fires. Always purchase a device that that has the European safety CE mark. The following brands produce trusted devices that conform to safety standards.
Belkin

Belkin is a US company that produces an array of electronic devices, including networking devices and mobile phone accessories. It's a trusted brand known for producing high quality tech, and its battery packs include sensors that will automatically shut the device down if it detects fluctuations in voltage and heat. The company offers a large range of portable chargers, starting with its Power Pack 2000 that is a very low cost device that will charge up to two phones and comes in a range of colours, though this device may struggle to charge some of the newer phones on the market.
At the middle of Belkin's range, there are devices such as the Pocket Power 15K Bank that can quickly charge a phone up to five times before the charger needs recharging. It has LED indicators to show how much power remains and includes two USB-A ports so you can charge two devices at the same time.
Belkin particularly specialises in Apple compatible devices, and the upper end of Belkin's range of portable chargers includes those especially designed for use with Apple products. The Boost Charge Power Bank 10K with Lightning Connector & Cable includes a Lightning Cable (the standard used by Apple) and not only can it deliver output through this cable, it is also charged by the Lightning Cable, meaning that you only need to pack one cable when you are travelling. It also includes two USB-A outputs so you can charge additional devices via USB.
Anker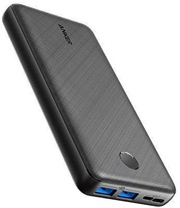 Anker is a Chinese company that was originally founded by a Google software engineer. It's one of the biggest manufacturers of portable phone chargers and is regularly at the top of Amazon's best selling list. Its range of devices are generally affordable, though they don't tend to come with extra bells and whistles.
Anker's range includes very low cost devices, such as the Anker PowerCore+ Mini that is a lipstick sized charger capable of just about charging one smartphone, and therefore ideal if you simply need to have a small power boost.
Its middle range offers a selection of devices that can charge the newer models of smartphones multiple times, such as the PowerCore 10000 PD, that has enough capacity to charge modern smart phones like the Google Pixel twice with some power to spare. However, heavy users might want to check out the Anker PowerCore Essential 20000. This ultra high capacity device can charge an iPhone 11 four times and with twin USB ports you can charge two devices at once.
RAVPower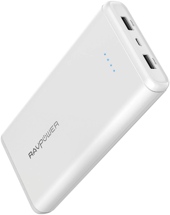 RAVPower are another stalwart of Amazon. This American company specialises in batteries, portable power banks and solar chargers. The company has a patent for a technology it has named iSmart, which enables its chargers to automatically detect the best charging current for the connected device and adjust accordingly. Its large range of portable chargers start with small chargers with 3,500mAh that are capable of charging a phone once, to larger power banks with 26,800mAh that can charge some phones up to eight times, and provide charge for more demanding devices, such as a MacBook or a Nintendo Switch.
Several of its devices are USB-C compatible, giving much faster charging times, and the range is generally competitively priced. In addition, RAVPower's range includes some devices with extra features. For example, the Built-In AC Outlet Power Bank is a portable charger that includes a plug socket, as well as a USB socket. You can't power a microwave or anything like that, but it's suitable for those low amp electrical items that require a plug, or items that require charging via a plug socket, such as a DSLR camera battery.
For those who want to explore the great outdoors but still want to be connected to the digital world, RAVPower has Solar Charger that can charge two devices at once and can be recharged via solar power. It has a durable surround in case you drop it on rocky ground, and a torch.
Finally, RAVPower have also created some all-in-one solutions to your digital needs when travelling, with portable chargers that also include a Wi-Fi router, media streamer, and storage backup capabilities via USB and SD card readers.
Mophie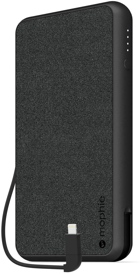 Apple customers are known for their brand loyalty and Mophie have a long standing relationship with the smart phone giant, creating premium accessories for the iPhone that can be purchased in Apple stores. As a result, Mophie is considered one of the most reputable brands when it comes to portable phone chargers, which, unsurprisingly, does come at price, with its chargers generally being more costly than its competitors. Even its smallest charger with a capacity of 5,000mAh costs more than larger capacity chargers from the likes of Anker and RAVPower, though it does include the ability to charge two devices and USB-C compatibility.
At the top end of Mophie's range is the Powerstation USB-C 3XL that has a whopping 26,000mAh capacity with the ability to charge your Apple devices in rapid time, though the charger can be used for non Apple devices as well via a USB-A port. Some of its chargers include a built in Lightning connector so there is no need to carry around an extra cable to connect your iPhone or iPad, and as you might expect from a brand associated with Apple, all its products come with a sleek design.
Of course, having to carry around an extra device to charge your phone is still a little inconvenient, and that is something that Mophie have recognised, which is why they have created a new line of portable, wireless phone chargers. Juice Packs are phone cases that include battery packs, and therefore not only protect your phone, but also provide a wireless boost to your phone's battery. Currently, they are only available for the latest iPhones (from 7 up) and some Samsung Galaxy phones, and whilst there are some cheaper imitations available online, Mophie and Apple itself are presently the only trusted brands creating these type of portable chargers. As more phones move to wireless charging, we predict these cases could be the portable chargers of the future.
Other Brands
Along with the major manufacturers, there are a good number of other brands offering a range of portable phone chargers.
Juice
Juice is one such brand. Found in high street shops up and down the UK, including Argos, Currys, Halfords, and many supermarkets, the brand is fairly recognisable thanks to its brightly coloured devices that are aimed at the more style conscious user. Its range includes low capacity lipstick sized chargers, and mid-range capacity chargers with built in connectors.
Samsung
Samsung is another design conscious manufacturer of portable chargers. Its limited collection has clearly been created to compliment the appearance of its smartphones, with the option to choose from different colours, including baby pink, baby blue, silver, and gold. With just a handful of chargers on the market, the brand offers lower capacity chargers, rather than the ultra powerful power banks available from rivals, focusing primarily on the average smart phone user.
Bear Grylls
Finally, we couldn't finish our brand round up without a mention of everyone's favourite boy scout, Bear Grylls. Yes, that's right, the fearless adventurer has released his own range of tech aimed at those who love the great outdoors, and it includes a selection of portable chargers. These chargers are designed to be ultra-light and compact, with built in cables so you can use them easily on the go. The collection even includes solar powered versions, so you don't have to worry about being near civilisation to recharge the batteries!
Features to Look Out For
With so many portable phone chargers on the market that are continuously offering improvements, it can be difficult to make a choice. Here we look at what features you really need to consider when purchasing a power bank.
Power Capacity
Of course, the number one requirement of any portable phone charger is the ability to charge your phone or other device! When choosing a charger, you should always look at the power capacity first. Measured in mAh (milliamp hours), the capacity will give you some idea of how many times you can charge your phone from one fully charged pack. The greater the mAh, the more costly the charger will be.
So, what figures should you look out for? Generally, anything under 5,000mAh is considered as low capacity. These devices will give your phone a few extra hours and are great as an emergency option, especially as they tend to be small enough to fit in a pocket or small handbag. Medium capacity chargers tend to range between 5,000 and 10,000mAh and will give your phone two or three charges whilst still remaining small enough to fit in a large pocket.
Devices that are above 10,000mAh are considered large capacity. They are often capable of charging multiple devices at once, and many can charge high powered devices such as laptops and portable games consoles. However, the bigger the power capacity, the bigger the charger, and generally these high capacity models are more suited for those who are carrying a rucksack or briefcase and need to power a few different devices.
Sizing
As you may have gleaned from above, the size of your portable charger tends to reflect its power capacity. So, if you want to simply have something you can slip into your pocket, then you will probably have to compromise on how much power your charger can provide.
Charging Time
If you need to charge your phone in a hurry, then you will be very frustrated if it turns out your portable phone charger takes ages to get just a few percentage points into your phone's battery. You can assess this by looking at the device's power output. If it has a USB port with an output of 1 Amp / 5 Watts, then you can generally assume that charging your phone is going to take a while. Again, numbers are important here, and if you want to charge multiple devices you need to get a minimum shared output of 2.4 Amps / 12 watts, though for fast charging look for 3.4 amps / 17 watts shared output and above.
However, it's not all about amps and watts when it comes to charge time. Qualcomm Quick Charge technology uses a chip in the charger to boost the wattage, leading to faster charging. The technology is supported by a wide number of phone manufacturers, and if your phone is capable of benefiting from the Quick Charge technology it's certainly worth choosing a power bank that includes this capability.
When to comes to recharging the power bank itself, time might not be of the essence as most users charge them up overnight in the hotel, etc. That being said, it's worth noting that power bank inputs range from 1 amp to 2.4 amps, and again, the bigger the number, the faster the charge.
USB-C / Lightning Cable Compatibility
Most smart phone manufacturers are now moving to the USB-C standard of cable. This slimline connector allows power to be transferred at a greater speed so if you have a smart phone with a USB-C connector it's worth looking for a charger that can support USB-C charging.
Apple, however, have taken a different route from other phone manufacturers with the use of the Lightning connector. This means that you can't use any old USB cable to connect your Apple device. If you have an Apple device then look for a portable charger that supports Lightning connectors, especially if you want a charger that has built in cables.
Additional Features
Many of the portable phone chargers come with additional features to make them stand out from the crowd. LED indicators are one feature that are not essential, but pretty useful. These lights give you some indication on how much power is left on the device.
Other non-essential, but nice to have features include an in built torch for when you're camping or hiking at night, and the ability to be used as a Wi-Fi router, which is ideal for when hotels insist on charging per device for their Wi-Fi.