Many people often come to us and ask – how much can I expect to save on a Fitbit over the Black Friday sales? Or, what kind of discounts can I receive on a new Kitchen Aid mixer here in the UK? In this article, we answer these questions and more, showing you all the best offers we found from the UK's 2017 Black Friday sales and what sort of discounts you'll likely find on popular items come November 2018.
We'll be honest though, Black Friday here in the UK is just not up to scratch when you compare it to Black Friday in America where the entire concept evolved and still remains one of the biggest shopping events of the year. In the US, you'll find people queuing up outside of shops for hours to get all of the intoxicating 'doorbusting deals' advertised to get you in the shop.
Black Friday in the US vs the UK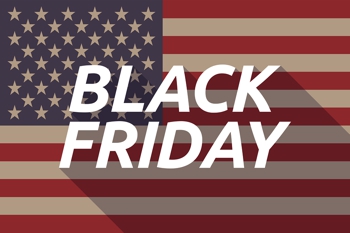 The deals in the US are generally much better than what you'll find here in the UK and definitely what we would consider Black Friday worthy – we're talking 75% off of popular jewelry and $1,000 slashed off the price of a new brand-name TV. The name 'doorbuster' refers to limited items in a physical shop where the price has been slashed by so much that people would figuratively (and often literally, as seen in the news) bust down a door to get said deals.
Additionally, many shops in the US also give away gift cards to the first X amount of people to walk through the door, which range from $5 off up to the hundreds! So, going to the actual store becomes a lot more enticing when these deals and freebies are dangled right in front of you. This is exactly why US patrons tend to queue for hours before, whereas in the UK, no one really bothers to do this (except for maybe our American visitors who are then, subsequently, very disappointed).
In the UK, we are not as lucky in terms of getting free stuff or extra discounts for waking up early and trekking to the shop, so most of us tend to do our shopping online, as the deals and discounts really mirror the ones in store – and, in a lot of cases, are much better what with the addition of coupon codes, etc. that you can use at check out. But, the end of November is still a prime time to shop and a wonderful opportunity to save a fair few quid on your Christmas shopping, especially if you are looking for the following items.
Items Commonly Reduced in the UK Black Friday Sales
In terms of the items likely reduced in the Black Friday sales here in the UK, over the past few years, we've noticed a lot of great deals on things like electronic toothbrushes, coffee machines, vacuums and other health and beauty electronics. By 'great', we mean these items were reduced by 50% or more. Whilst consumers really want to find that new iPhone or Sonos soundbar reduced by half, we've just not seen that here in the UK and we're probably unlikely to ever see that happen unless those brands are replaced by something more popular.
You will find some decent discounts in November on the items we've just mentioned above though, as well as other popular items, but they just might not be those hot ticket items you're hoping for. Below, we take a look at some of the heavily reduced items in the 2017 Black Friday sales here in the UK that we consider to be Black Friday worthy. Hopefully this will help you get an idea of what kind of deal you'll find in the UK's 2018 Black Friday sales.
Top Reductions From 2017
Item
Brand
Shop
Sale Price
Savings
Electric Toothbrush
Philips Soniccare
Amazon
£94.99
68%
Fitness Tracker
HR10+ 18-in-1 Fitness Tracker
Living Social
£19.99
86%
Jawbone Up 2&3
Amazon
80%
Coffee Machine
De'Longhi Espresso Maker
Amazon
£99.99
50%
Jovia Coffee Maker
Robert Dyas
£34.99
65%
Experiences (spa days, etc.)
Race car driving experience
Red Letter Days
73%
Champagne spa day
Virgin Experience Days
63%
Vacuum
Dyson V6 Cordless
Argos
£229.99
51%
Velocity Steam Cleaner
Robert Dyas
£49.99
50%
Velocity Bagless Cylinder Vacuum
Robert Dyas
£44.99
50%
Mini Projector
Crenova Mini Projector
Amazon
£49
73%
Beauty Electronics
Philips Lumea Prestige IPL Hair Removal Device
Amazon
£21.99
75%
MHU Ionic Hair Straighteners
Amazon
£21.99
75%
Kitchen Gadgets
Aicok Juicer
Amazon
£29.99
67%
Salter Max Chopping Board/Scales
Amazon
£18.04
55%
Air Fryer
Robert Dyas
£49.99
50%
Tools
Black & Decker Drill
Robert Dyas
£69.99
65%
10 Piece Rolson Screwdriver Set
Robert Dyas
£9.99
50%
Perfume / Cologne
Popular brands
Amazon, Debenhams, John Lewis
Up to 50%
Jewellery
Swarovski® bracelet, earrings and necklace
Living Social
£16
86%
J.NINA "Aurora" 925 Sterling Silver Heart Women Pendant Necklace
Amazon
£9.99
90%
Can I Find Decent Discounts on Popular Items Like Apple & Sonos?
For brands like Fitbit, Sonos, and Apple, you're going to struggle to find any really decent offers, especially on the latest models.
Fitbit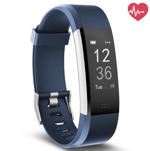 For Fitbit, we've seen a few decent deals with 30% off a newer wristband at Debenhams and something similar on Amazon, but that was about as good as it got (unless it's an older model you're after).
To view the UK Fitbit deals this Black Friday, check out our Fitbit page.
Apple
For Apple, the discounts are few and far between. If you're looking for a slightly older version of iPhone or Macbook, you'll normally find something in the region of 10% off at places like Game, Amazon, John Lewis and Littlewoods.
The best deal we saw last year though was at Living Social when they offered a 250GB Apple iMac with a keyboard and a mouse for just £299 (a 73% saving on the retail price of £1099). But Apple just do not discount their newer models, because, well… they don't need to.
To view the UK Apple deals this Black Friday on iPhones, iPads & Macbooks, check out our Apple page.
Sonos
Same goes for Sonos. For Sonos soundbars and speakers, you'll be lucky to find something like £10 to £20 off during the Black Friday sales, which isn't great, but at least it helps if you planned to purchase one of their products anyway.
To view the UK Sonos deals this Black Friday on Sonos speakers & soundbars, check out our Sonos page.
ghd Straighteners & Hair Dryers
ghd straighteners and hair dryers are almost always on offer on Black Friday, so you'll find something in the region of £20 off the original cost. This doesn't bring it anywhere near to a 50% savings, but at least you'll get a bit of a discount for what you know will be a great product. You'll find these discounts at places like Amazon, John Lewis and the Hut.
To view the UK ghd deals this Black Friday on ghd hair straighteners & hair dryers, check out our ghd page.
Kitchen Aid Mixers
Another popularly searched for item is the all-famous Kitchen Aid mixer, but we just didn't see any truly Black Friday worthy deals in last year's sales. Other than freebies to go along with the mixer, there weren't many actual price reductions.
Keep an eye on Amazon's daily Black Friday deals at the end of November though and, if you see a Kitchen Aid mixer featured, be quick to the punch, as these will be gone in a flash.
In the 2017 sales, we did see 50% off a Kenwood mixer at Debenhams, so if you're not bothered by the brand, you'll likely find a good 'fake' Kitchen Aid mixer marked down in November.
Reductions on Popular Items
Item
Brand
Shop
Sale Price
Savings
Gaming Console Bundles (with games)
Xbox One S 500GB
Game
£199.99
31%
PlayStation Pro
£299.99
27%
Nintendo Switch
£299.99
12%
Home Assistants
Echo Dot
Amazon
£34.99
20%
Google Home Speaker
Littlewoods
£99
45%
Kitchen Mixers
Kenwood Kitchen Mixer
Debenhams
£235
50%
Apple
iPhone/Tablets (older models)
Game, Amazon, John Lewis
Up to 10%
ghd
Selected straighteners & hair dryers
The Hut, Amazon, John Lewis
£20 off
Sonos
Selected sound bars & speakers
Amazon, John Lewis
£10 to 20 off
Creuset Kitchenware
Selected casserole dishes & saucepans
 The Hut
Up to 25%
Smart Thermostats
 Hive
Amazon
33%
General Reductions From Last Years Sales
We also saw a lot of general reductions in the 2017 Black Friday sales across departments with 'up to 50% off toys', etc. across many shops. This, of course, meant it was 'up to 50%' on selected toys, but this surprisingly included a lot of 2017's hot items, including Disney Pixar Cars 3 Movie Moves Lightening McQueen for a whopping 56% off and 40% off a Furreal Roarin' Tyler, the Playful Tiger. There were no discounts, however, on the ever-covetted Luvabella doll, which was mostly sold out by the time the Black Friday sales even started.
Below we have a look at some of the generalised discounts by department from the 2017 sales on things like furniture, clothing, and more.
Department
General Discount
Shop
Baby
50% (feeding items)

Free £120 Antex car seat (w/ purchase of selected pushchair)

Mothercare
Clothing
20% (baby), 25% (maternity)

30% (men's & women's) + daily deals

Mothercare

Debenhams

Footwear
45% (Joules)

20-30%

Amazon

Debenhams

Furniture
40% (baby)

25% (indoor)

20% (children)

Mothercare

Argos

Littlewoods

Large Appliances
10% (when you spent £299+)
Argos
Toys
50% (selected)

60% (all toys)

Argos / Amazon

Mothercare
2017 UK Black Friday in Review
So, as you can see, Black Friday here in the UK isn't as impressive as our US counterparts. We really just don't see huge discounts on the truly popular items like Fitbit, Apple products, Sonos – whilst you may be able to find a bit of a discount, it most certainly won't be marked down by 50% or greater. But, if you're looking for a new Dyson vacuum, an electric toothbrush or a coffee machine, you are bound to find an amazing deal come Black Friday!
The Term 'Black Friday'
At the end of the day, the term 'Black Friday' is really starting to lose it's meaning. What was once meant to be one shopping day the day after Thanksgiving, has become a week-long affair in both the UK and the US with shops starting their Black Friday sales sometimes up to a week or more before the actual shopping day. Here in the UK, in 2017, places like Argos started their sale a week before Black Friday and promised not to further reduce any items on the actual day itself. Many other shops followed suit as a result.
We think this particular idea really takes away from the exciting atmosphere of Black Friday and, as a result, the reductions in prices we saw in 2017 just weren't as good. Perhaps this choice was partly in response to some of the drama that ensued in the UK's early Black Friday days where customers literally got trampled and the mob effect replaced common human decency, but we feel the UK needs to reinstate some better sales and keep those Black Friday worthy deals coming.