There are hair styling devices, and then there are ghd made hair styling devices. The company is a market leader to such an extent that people will often say "I just need to grab my ghds" instead of "grab my hair straighteners". ghd don't just do hair straighteners, though, so here we'll be looking at both straighteners and hair dryers and tell you what to look out for when you hit the shops and guide you towards the device that is best for you and your hair-styling needs.
See Also: Hair Dryers, Straighteners & Curling Irons
Shops With ghd Offers
ghd Buying Guide: Hair Straighteners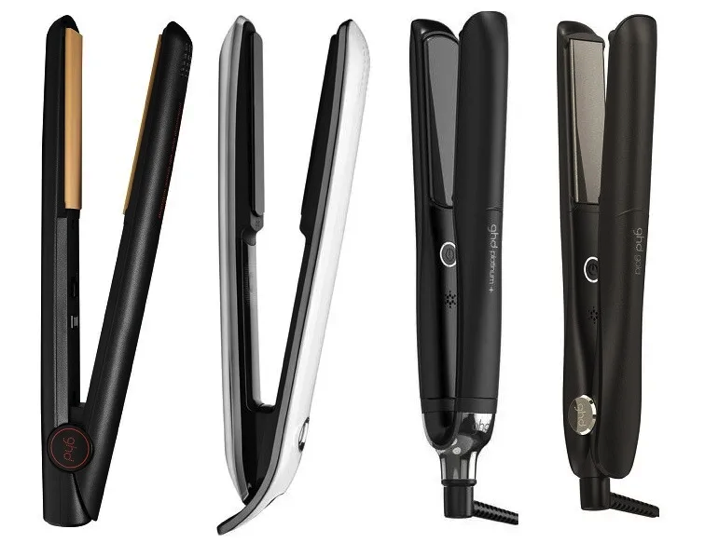 ghd straighteners are a genuine leader in the field, featuring ground-breaking technology that other hair straightening manufacturers have been forced to copy if they want to keep up. All straighteners made by the company feature their advanced ceramic technology, allowing them to make your hair straighter than ever before, quicker than ever before. They are also able to heat up to their top temperature rapidly, meaning you don't have to wait long to sort your hair out if you're in a hurry.
They have a universal voltage, allowing you to take them away with you when you hit the tiles in Miami or Mallorca, plus a sleep mode and a 2 year guarantee from the company. The sleep feature means that they automatically turn themselves off after 30 minutes, so you don't need to turn the car around if you're halfway down the M6 and think you might have left them on by accident!
Most importantly, though, ghd straighteners feature a rounded barrel that allows you to curl your hair as well as straighten it. No more buying a straightener for one thing and curling tongs for another. The ceramic technology featured in ghd straighteners sits on top of aluminium plates. The aluminium conducts the heat brilliantly, whilst the ceramic layer ensures that the plate heats up to an even, consistent temperature. The ceramic also allows the straightener to glide through your hair, stopping it from tugging or pulling and causing damage.
The rapid heating up of the straighteners mean they should reach their optimum temperature within 30 seconds of being turned on. At the moment that temperature sits somewhere between 175 and 185 degrees, which ghd believes is the sweet spot for allowing you to curl your hair without burning or damaging it.
The Different Stylers
ghd currently offer 3 different widths when it comes to their hair stylers. They are the mini styler, the classic styler and the max styler. The idea is that the differing plate widths allow more or less hair to be straightened, depending on what it is that you're looking for. If you're not too sure, allow us to expand:
ghd Mini Styler
The Mini Styler has ¾ inch plates that allow for precision straightening or curling on shorter hair. They're ideal for men, ladies with styles like a bob or a pixie crop or people that would like a different styler for when they come to sort out their fringe.
ghd Classic Styler
The Classic Styler is the best seller in the ghd range. That is primarily because it is best suited for mid-length to long hair. The Classic Styler has 1-inch plates, so if you consider your hair to be of a healthy length and not overly thick then this is probably the one for you.
ghd Max Styler
Formerly known as the Salon Styler and featuring 2 inch plates, the Max Styler is best suited to long, thick and luxurious hair. The widest plates in the ghd range allow for larger sections of hair to be straightened and styled and can take on tougher challenges. They are excellent at straightening Afro-Caribbean hair, so if you think your locks are sometimes a bit of a challenge then pick up a pair of ghd's Max Styler straighteners.
ghd Unplugged
These are meant for people on the go and are meant for people travelling who require a cordless option. With a 45 second heat-up time, these straighteners give you up to 20-minutes of cordless straightening when they are full charged.
Which Model Is Best For You?
Now that you've figured out which size is the one for you – and remember, bigger isn't always better – it's time to consider which model is the one that will serve your hair best. There are currently 4 options on the market, so we'll look at each of them in turn.
ghd IV Styler
The ghd IV Styler is considered to be the original in the ghd series and is still the best seller. It has won a myriad of awards and is the perfect model for creating curls, waves or – obviously – straight hair.
ghd V Gold Styler
The ghd V Gold series of stylers are sleek and smooth. The straighteners have gold accents and golden plates as well as an enhanced design that gives them a deluxe feel. The Gold series is designed to enhance the slide of the styler and to promote shine. It's the straightener for people that want to stand out from the crowd.
ghd Eclipse Styler
On their website ghd claim that the Eclipse Styler is 'ground-breaking' and that they 'style faster with less heat'. The Eclipse model is also the only hair straightener on the market that features 'tri-zone technology'. This involves six sensors at different points in the plate of the device that ensure a constant heat is maintained. They give unbeatable shine and claim to give you stronger hair that looks glossy and healthy.
ghd Platinum Styler
At the time of writing this piece the previous three models were the only ones officially on the market, but ghd have also just announced the imminent release of their latest model, the Platinum Styler. These feature a new 'wishbone hinge' that allows you to take greater control of the straighteners. Like the Eclipse Styler, the Platinum series also contain the tri-zone technology that will almost certainly feature in all forthcoming models. These are the latest and, presumably, the greatest ghds on the market, so opt for these if you like to buy the newest thing or you're determined to keep up with the Joneses.
ghd Unplugged
Just because they're not running from the plug socket doesn't mean that they don't offer that great ghd quality that we've all come to expect with ceramic coated heating plates. That means that the plates should heat up evenly and remove the the possibility of hair damage thanks to hot spots, as well as allowing your hair to glide over the plates more evenly. You might be a little concerned about the fact that the plates are only 2 centimetres wide, which means that they're narrower than standard models. The good news is that that is offset by the fact that the plates sit on 'floating' springs, which gives them the ability to adjust to your hair as you pull the straighteners through them, ensuring you need to engage in fewer strokes to get your hair straight.
These straighteners come with just one heat setting, which sits at 185ºC and is the sweet-spot for damage-free hair styling according to the company. There are dual-zone heat sensors, which means that they're inline with the ghd Gold straighteners and allow the device to adjust its temperature as you use it, offering a consistent temperature. In terms of charging it, it will take about two hours to get it fully charged, after which you'll be able to use the straighteners for around 20 minutes; more than enough time for most people to be able to get their hair straight.
You can charge it using a standard USB-C cable, which is great if you're going away and don't want to have to take a proprietary charging cable with you. You can also put these in either your cabin baggage on the gold, owing to the fact that the battery is flight-safe. The Unplugged only weighs 300 grams, sitting at 22 centimetres in length, but feels sturdy in use and fits into the hand well. It is an easy way of being able to get your hair styled before you head out on the town, whether you're in a hotel in Brighton or looking to hit the nightclubs of Ibiza, making it a popular buy.
Limited Editions
We said there were only 4 models, and that's true, but there are also plenty of limited editions that ghd tend to send out every now and then. More often than not it's simply a matter of ghd releasing standard models in different colours, so it makes no difference really to the performance of the device.
It is worth noting, though, that the limited edition ghds tend to be more expensive than their regular counterparts, so don't worry yourself too much unless you're absolutely desperate to have some red hair straighteners.
ghd Buying Guide: Hair Dryers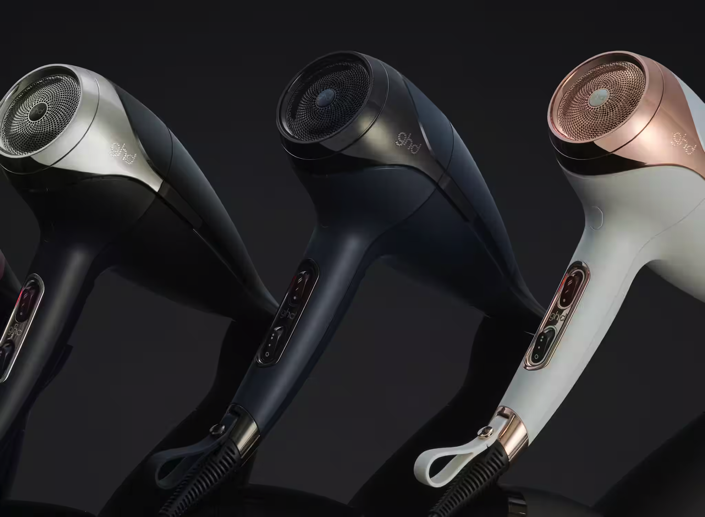 When it comes to hair care, ghd doesn't mess around. Not content with being a market leader in the hair straightener section of the hair styling catalogue, they have also released some top of the range hair dryers. There are two main models, so we'll have a look at them both now.
The ghd Aura Professional
Featuring patented Laminair technology that claims to deliver a 42% more concentrated stream of air than other dryers on the market, meaning you can work on one section of hair without fear of it disrupting any others, the ghd Aura Professional is the latest ghd hair dryer on the market.
The idea is that it lets you style your hair whilst you're drying it. This may not sound like a new thing, and in essence it isn't, but by offering precise drying of specific areas of your hair ghd claims that it will you smooth and shiny results.
The ghd Aura Professional also features Cool-Wall technology, which ghd claims will keep the outer casing and nozzle of the hair dryer cool to the touch. This means you can have more control over the unit and style much closer to the root.
Being one of the latest hair dryers on the market, the Aura Professional features a new generation motor that operates at a quieter volume than previous models. It's also lighter and more efficient, meaning you can use it for longer and spend less, given that it is also more energy efficient.
The other features of the Aura Professional that you might be interested in include an advanced ioniser, that removes static electricity from your hair, meaning you'll have frizz-free hair that doesn't stand up as you remove the dryer.
It also has variable power and heat settings to give you more control of your styling, including a new 'cold shot' button than gives you a burst of cold air to lock your style in place.
The ghd Air
Widely considered to be one of the best hair dryers on the market, the ghd Air has a 2100 watt motor and high-pressure airflow that ghd claims will give you the best blow-dry of your life.
The aim of the Air is to give you a salon style hair dryer in your home, with its professional strength motor and variable power and temperature controls. It can allow you to dry your hair to a brilliant standard in half the time of less powerful dryers.
Much like the ghd Aura Professional, the Air features ionic technology, to limit frizzy hair, as well as the cool shot feature than gives you a blast of cold air to help you lock your style in place. The ghd Air is ergonomically designed to fit both left and right handers and has two different nozzles, allowing you to choose which nozzle best suits your hair type. It has a patented removable air filter which delivers high pressure air flow, to ensure super fast drying.
ghd Helios
In the religion and mythology of Ancient Greece, Helios is the god and personification of the sun. It is fair to say that the company is shining brightly with this addition to its hairdryer range, which started with the launch of the ghd Air back in 2012. That was thought of as something of a game-changer in the consumer-hairdryer market and the company is still making waves more than a decade later. The Helios is something of a crossover between the Air and the Aura, being redesigned and re-engineered to get the company back on top and stretch its lead over its rivals.
In terms of what to expect, the power sits at 2,200 watts and there are two temperature settings and the same number of heat settings. It looks beautiful, thanks to its white and rose gold combo, which will appeal to many, and is one of four colour options. Whilst it only ships with one concentrator nozzle, it is a really impressive performer when it comes to being able to dry your hair. If you've used the ghd Air then you'll know what to expect from the Helios, at least when it comes to the likes of the positions of the power, heat and cold shot buttons. The big difference is in the size and weight of the Helios.
It comes in at 510 grams, which makes it 20% lighter than the Air, which can be a difference-maker when you're having to hold it at head height for a reasonably long time. The performance is where ghd's products tend to be at their best and the Helios is no exception. Depending on the thickness of your hair, you can expect the Helios to get it dry in just over a minute out of the shower, which is incredibly impressive. If you want to style your hair as well, it will be a little more than two minutes, depending on how fussy you are. In other words, this is a serious hairdryer.
It is ghd's AeroPrecis technology that allows for the speed of drying. This system makes use of a brushless motor and an in-built power supply that sends warmed up air heading out of the device at 75 miles per hour. The nozzle has been redesigned to curve at the end like the tip of an aeroplane's wing. The holes in the grille of the device, which have been patented by ghd, make the entire thing noticeably quieter than most other hairdryers. Hair dried using the Helios might lack a touch of volume, but the overall performance of the dryer more than makes up for that.
ghd Flight+
If you've been paying attention, you'll doubtless have noticed that ghd have launched some products specifically aimed at people that like to travel. The ghd Unplugged is their portable hair straightener offering, given the fact that they don't need to be plugged in to work, whilst the Flight+ is the companies travel hairdryer offering. Designed to offer you the same experience as you'd get from the likes of a ghd Air but in a more compact offering, the idea behind the Flight+ is that you can stick it in your luggage and use it wherever you are in the world whenever you need to dry your hair quickly and efficiently.
Compared to the ghd Air, the Flight+ offers 78% of the power but is 49% lighter and 25% smaller, making it perfect for the regular traveller. It is fuelled by a DC motor and has an improved heater, ensuring fast drying results every time you use it. The advanced ionic technology ensures that the blow-dries that you carry out are effortless and long-lasting, whilst its ability to fit into your luggage is aided by the fact that the handle folds, allowing it to fit into the luxury travel case that comes with it. The aim of the company is to get you to bid goodbye to hotel hairdryers thanks to this.
It boasts a dual voltage offering of 240 and 120 volts, meaning that you can use it pretty much anywhere in the world without blowing a fuse. ghd have won more than 400 beauty awards around the world and with this hairdryer its easy to see why. You can vary the speed and the temperature at which it operates, ensuring that you stand the best possible chance of getting your hair to look exactly how you want it to. The standard temperature it offers is 65°C, with the dryer having the ability to shut off automatically if it is held too close to your hair, stopping it from overheating.
It isn't as powerful as the company's other hairdryers, but it also isn't designed to be. There is a degree of sacrifice that you have to make if you want to be able to take something abroad with you and limit the amount of space that it will take up. Similarly, the filter isn't removable, but that's not a great sacrifice given everything else that you gain from it. This is the company's entry-level hairdryer in many ways, but don't let that fool you into thinking that you're getting anything but quality. It is a balance between something easily portable and a hairdryer that works how you'd expect from the ghd brand.