Smart doorbells offer a technologically savvy security solution for our homes. Most smart doorbells come with both a microphone and a camera so you can see exactly who is at your door and communicate with them without even having to get up from the couch. With the ability to recognise regular guests and notifications sent straight to your smart phone, you will rest easy knowing your home is safe and secure.
See Also: Smart CCTV Security Cameras | Smart Thermostats | Smart Speakers
Shops With Smart Video Doorbell Offers
Smart Doorbells Buying Guide
Knock knock, have you got a minute? I have noticed that you still don't have double glazing on your windows. Perhaps I can talk to you about what options we could offer?
Let's be honest, these are words that are rarely welcomed. However, door to door salespeople may soon be a thing of the past thanks to Smart Doorbells that allow you to see who is at the door without even leaving the sofa. Fitted with microphones, cameras, and other features, these Wi-Fi doorbells connect to your phone and add an extra layer of security to your home.
What Are Smart Doorbells?
A smart doorbell typically combines a security camera with a doorbell and allow the user to see who is at the door before it is opened. They usually connect to a smartphone via a Wi-Fi connection, and often include two-way audio so you can talk to the person outside via your phone and hear what they have to say, even when away from your home.
Many also have additional features, such as the ability to record footage when a person is detected, so if you are away from home you can see who has been to your door. Furthermore, in the age of the smart home, many of these nifty little devices can connect to other smart home devices, taking the automated home to the next level.
Why You Might Want a Smart Doorbell
It's not just about avoiding the dreaded double-glazing salesperson. Using a Wi-Fi doorbell has multiple benefits. The prime reason why most people purchase a smart doorbell is security. The doorbell is effectively a security camera, recording high quality images of anyone who approaches your door. This is a fantastic deterrent for anyone who is thinking of committing a crime on your property, and for those criminals who fail to spot the device, it provides high resolution snapshots of their faces for the occupants of your local police station to enjoy.
There are plenty of other scenarios when a smart doorbell would be useful. For instance, if you have a baby that will only nap on your lap, then you can tell the delivery driver to leave the package outside rather than try and move the sleeping baby and risk all hell breaking loose. If you are running late to meet a friend or family member who is coming to your home, you can communicate to them via your smartphone to let them know that you are just a few minutes away.
If you are a carer to an elderly relative who has fallen for scam sales in the past, a smart doorbell fitted to their home will allow that relative to see who is at the door and give them the opportunity to ignore it. What's more, as you can connect the doorbell to your phone, you can tell whoever is at the door politely, (or not) to go away, giving you and your relative extra peace of mind.
Types of Smart Doorbells
The smart doorbell market is a relatively new sector, and it has pretty much been led by Ring, the market innovator, since the beginning. Ring might have had the advantage of getting a head start, but now other brands are starting to catch up, with some offering unique features to make them stand out from the crowd.
Ring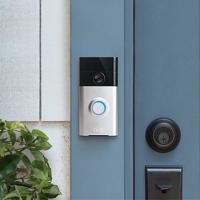 Ring dominate the smart doorbell market. In a short space of time, the brand name has become synonymous with the device to the point that other brands barely get a look in when it comes to the best-seller lists. Ring is now owned by Amazon, but the venture originally started in 2013 as a crowdfunded project that impressed investors and went on to secure funding from high profile companies and figures, including Goldman Sachs and Sir Richard Branson. Ring reinvented the doorbell, adding a camera, microphone, Wi-Fi connection and more, and the brand have led the way since.
Today, Ring have a collection of smart doorbells available to choose from. All of the models are controlled via an app that is available on smartphones, tablets, and PCs, and all of the models include two-way audio and motion detection, as well as infrared night view and the ability to live steam the view of the camera to the app. Some doorbells are battery powered, whilst others require hardwiring into your mains electricity.
Of course, the more you pay, the better the features, and Ring's higher end items benefit from additional features such as a greater field of view (i.e. the area the camera can see), and customisable activity zones, which means that you don't get alerts every time a branch in front of your house sways in the wind. Some of the pricier doorbells include different faceplates, so you choose something that matches your home's style. The more expensive versions also have cameras with greater resolutions for sharper images.
Whilst you can livestream images from your Ring device, you can't record them unless you subscribe to Ring Protect. For a monthly fee you can access up to 30-days of images and videos captured by your Ring device. If you want a device that allows you to look back on the past few days, for example, because you're trying to find out who is playing "knock a door and run" on your elderly relative, then this is an added cost that you will need to factor in when making your purchase.
Nest
Ring might be the market leader when it comes to smart doorbells, but Google Nest has been making big encroachments into Ring's territory. Nest was originally founded in 2010 by two former Apple engineers who designed a smart thermostat that allowed users to get more control over the heating systems in their homes. Since then, the company has been acquired by Google and all of Nest's systems are now designed to be compatible with Google Home devices.
Nest launched its Hello Doorbell in 2018 and it has quickly become the main market rival to Ring. Hello connects to your phone via Wi-Fi and like other smart doorbells it sends alerts to your phone when someone is at the door. Using the app, homeowners can select "talk", "ignore" and "responses". Tapping "talk" allows you to talk directly to the person outside through your phone. Tapping "responses" allows you to choose a pre-recorded response, such as "please leave the parcel there".
Nest Hello's camera records HD images and is capable of night vision. All pretty standard stuff so far, but what sets Nest apart from its rivals is the machine-learning technology that gives it the ability to recognise familiar faces, and tell the difference between someone loitering by your door and someone simply walking by, reducing the amount of unnecessary alerts you receive. Once the device has recognised a regular visitor to your home, you can name them on the app and set your phone to announce their name when they arrive at the door. However, this feature, and 24/7 continuous recording is only available to those who have a Nest Aware subscription plan. Available for a monthly fee, the plan is available for Nest doorbells and Nest smart security cameras, with various packages available.
Unlike Ring, Nest currently only has one power option available for its doorbell, and that is through mains electricity, which is why Google recommends that you use a trained professional to install the doorbell in your home.
Arlo
Arlo might not be a brand that is instantly recognisable, but its owner, Netgear, certainly is. The computing hardware company is synonymous with reliability when it comes to its network and Wi-Fi routers that are the preferred product of choice for many in the IT sector. Arlo was originally created by Netgear as an internal brand for its range of security cameras but was spun out as a separate company in 2018.
Arlo currently has just one smart doorbell on the market, with another due to be launched soon (more on that below). The Arlo Audio Doorbell launched in 2018 and is a low-cost smart doorbell, but there's a catch. As the name implies, this is an audio only device. There is no camera included with this doorbell. In the age of Ring and Nest, releasing an audio only doorbell might seem like a bit of a blunder, especially when you consider that Arlo already have a range of security cameras, but in part, that's sort of the point. The Arlo Audio doorbell is compatible with its security cameras, and by placing the security cameras around the home, users potentially have a much greater field of view than that offered by other smart doorbells on the market. For those who already have an Arlo security camera system, the Arlo Audio offers a low cost way of adding a smart doorbell to your home's security system.
Like other smart doorbells, the Arlo Audio doorbell connects to your smartphone via an app, and if someone rings the bell you will get an alert on your phone, with the option to talk to whoever is at the door through your phone. It's battery powered, so installation is fairly straightforward.
Of course, with the vast majority of smart doorbell manufacturers including a camera as standard, Arlo has come under a lot of criticism for not doing so. However, it looks like the company has now had a change of heart, with a video doorbell due to be released soon. Arlo released details of their Video doorbell in October 2019, though a market release date has not yet been confirmed.
This new product will feature a HD video camera with HDR and night vision, as well as motion detection and an impressive field of view that lets you see people at the door and any parcels they leave at the door's base. Unlike the Arlo Audio doorbell, this doorbell will require mains power, making installation slightly trickier. What's more, for continuous recording and additional features, users will need to pay for a monthly subscription service, much like users of Nest and Ring.
Other Brands
The current smart doorbell market is clearly dominated by two big names – Ring from Amazon and Google Nest, with Netgear owned Arlo starting to break into their territory. But that doesn't mean that your options are limited to these brands, as there are plenty of other choices available. Of course, with so much cheap technology from China and other Asian countries flooding online stores like Amazon, it can be hard to separate the wheat from the chaff. Thankfully, there are a number of brands that generally can be trusted to provide reliable products for your home.
Swann Communications
Swann Communications started life as a family business in Melbourne Australia in 1987 and is now a global company owned by the Infinova Group. The company specialises in home CCTV and alarm systems and in recent years has moved into the smart home market with a collection of security devices.
It's Wire-Free Smart Doorbell is battery powered, and comes with two-way talk, night vision, and heat detection. It also includes built-in memory so you can store up to 30 days of clips for free.
ADT
Another well-established company that is branching out into the smart home market is ADT, who have been providing security solutions for 145 years and is the largest security company in the US and Canada. Primarily known for their alarm systems, the company now offers a range of smart devices, including a smart doorbell.
The doorbell has all the usual features, but it also integrates with other smart ADT devices, so you can potentially unlock your front door for a welcome guest when the doorbell alerts you to their presence via your smart phone.
Byron
Of course, if you want to buy a doorbell from a trusted doorbell manufacturer, then you could look at one of the oldest doorbell manufacturers. Byron have been making doorbells for over 100 years, starting with traditional mechanical doorbells, and then launching one of the first wireless doorbells in the 1990s.
The company has embraced the 21st century with its video doorbells that are connected to your phone via the Smartwares app, with Smartwares being a sister company. Byron currently offer a mains powered version, and a battery powered version, both with two way audio and HD video images. Both versions include an SD card slot so you don't have to pay a subscription service to record your images.
Features to Look Out For
With so many smart doorbells to choose from, how can you make the right decision for your home and needs? Here are some factors to consider when making your purchase.
Battery or Wired Power
Smart doorbells tend to be either battery powered or hard wired. Battery powered smart doorbells are easy to install, as no electrician is required, but they are less reliable, and if you are a heavy user you will find yourself changing the batteries frequently.
Wired doorbells are generally powered through mains electricity, although a small number of brands are now offering power through an ethernet connection. The benefit of wired power is increased reliability; however, installation is more complicated. If you already have a traditional wired doorbell in place, then you can simply swap the two, using the existing wiring. Alternatively, you will probably need to call upon the services of an electrician to install it for you.
Compatibility with Smart Phones & Smart Devices
Almost all smart doorbells need an app on a smartphone or tablet to access all of their features, including access to the video streams. Apps that are available on Android and Apple devices are pretty standard across the market, but if you are one of the few people who have an alternative operating system to the big two for your smartphone then you may struggle to find a system that is compatible with your phone.
Not only can smart doorbells connect to your phone, but many can also connect to other smart devices in your home, such as Amazon's Alexa, other security cameras, and door locks. This means that you can potentially have images relayed from your doorbell to your smart home hub, such as Amazon's Echo Shows or the Google Home Hub. It also means that you can instruct your smart doorbell to unlock your smart door lock, letting a welcome visitor, or a cat that refuses to use the catflap, into your home without you leaving the sofa.
Chimes
A doorbell is pointless if it doesn't ring! Yes, you will get an alert on your phone when someone rings the smart doorbell, but not everyone carries their phone around with them in the home. It therefore seems obvious that a doorbell should have an audible chime in the home, but, surprisingly, not all brands include an internal chime unit! Instead, they offer a separate device that must be purchased separately, adding to the overall price.
Image Quality & Field of View
If security is a key concern when purchasing a smart doorbell, then you will certainly want to get the best quality images possible. Look for a doorbell that has HD video capture, plus night vision capabilities.
Some smart doorbells have a limited field of view. That means that what is visible through the camera is limited to a certain section. That's fine if you're only interested in seeing who is directly in front of the doorbell, but it's a problem if you want to be able to see when parcels are left outside your door on the ground. When choosing your doorbell, check out the specifications for the field of view to make sure it meets your requirements. If it states it has a 180 degree field of view then that generally means you can see the ground, as well as what's in front of the camera.
Cloud or Internal Storage
If you want to look back on images captured by your doorbell (for example, to review who visited your home whilst you were on holiday) then you will need some sort of storage for the video data. Most companies do not include in-built storage, preferring instead to offer a paid subscription service that gives you cloud based storage, along with additional features. If you don't want the added expense that comes from having to pay a monthly fee, then look for a camera that includes either internal storage or an SD memory card slot.
Premium Features
Premium features enhance the user experience. The ability to customise "activity zones" is one example of a premium feature. This allows you to identify areas in the doorbell's camera field of view to ignore. That means you can potentially set it to ignore someone passing by on the street.
As artificial technology advances, smart doorbells are becoming even smarter. If you want to make sure you have the latest tech in your home, look for additional features, such as facial recognition, motion sensors that can tell the difference between cars, people, and animals, and colour night vision.
Installing Smart Doorbells
Wireless smart doorbells that are battery powered are generally very easy to install, and because you use an app on your phone to connect to them, it's quite straightforward to set up a doorbell and get using it within minutes.
However, if you choose a mains powered doorbell, it is not so simple. You might already have a wired doorbell in place, in which case you can just swap the units over. However, if you don't have this wiring available, then you will need the help of a qualified electrician to run a wire out for you.