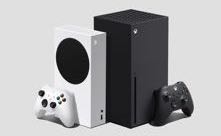 The Xbox Series X & Series S (a cheaper, digital-only version of the X) was released in November 2020 to match competitor Playstation's launch of the PS5 and is currently the most up-to-date model of Xbox on the market. Whilst PS5 is coming out with a Pro in November 2024, we highly anticipate that Xbox will be working on a new model to coincide with Playstation's PS5 Pro launch. As for now, this is the latest model available in terms of Microsoft's Xbox console.
See Also: PS5 | Nintendo Switch | Gaming Chairs | Gaming PCs & Laptops
Please Note: Black Friday deals on gaming consoles tend to launch on or around Black Friday (23-24 Nov) for a limited time only.
Latest UK Black Friday Offers For 2023
Shops With Xbox Series X & Series S Offers
Xbox Series X Buying Guide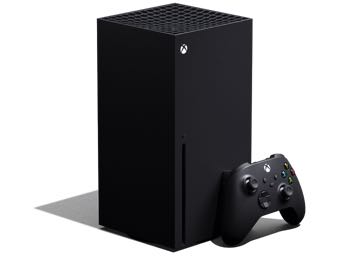 Whenever Sony releases a new PlayStation, you can bet that Microsoft won't be too far behind with the latest version of the Xbox. 2020 is no different than any other year in that sense, with the X Series coinciding with the launch of the PS5. The latest console from Microsoft provides uses with a speedy gaming experience thanks to a system on a chip that offers 12 teraflops of power, plus an AMD Zen 2 and RDNA 2 architecture that is truly impressive.
If you know much about the PS5 then there's little about the Series X that will surprise you, given both companies have opted for 3D audio and the use of ray tracing technology that ensures games both look and sound incredible. Speed is the key for Microsoft, whilst the true 4K gaming and the ability to go up to 8K will make it an ocular pleasure to be involved with. The Xbox Series X is designed to be future proof, at least in the short-term.
What Is New?
It would not be unreasonable for gamers to ask what's so impressive about the Xbox Series X, given Microsoft seem to release a new iteration of their flagship games console on a fairly regular basis. Whilst the difference between the Xbox One and the Xbox One S might have only been minor, however, the Xbox Series X takes things to a whole new level. Ray tracing provides realistic lighting, whilst 3D audio will make you feel like you're really in the world of your game.
Microsoft has also followed Sony's lead in simultaneously releasing an Xbox Series S console, which is an all-digital device that doesn't have the ability to play physical discs. Unlike PlayStation, however, who opted to make their two consoles identical under the hood with the exception of the lack of disc drive, the Series S is not quite as impressive as the Series X, even if it's still a pretty impressive upgrade from previous iterations of the device.
Ray Tracing
Ray tracing is technology that is used in computer generated image work to make lighting look as realistic as possible. Each ray of simulated light is 'traced' from its source, which allows for photo-realistic looking games. That means that you'll feel that you're virtually inside the world of the game, with shadows and reflections impressive enough to fool you into think they must have been physically filmed rather than digitally rendered.
Having said that, Phil Spencer, the head of the Xbox division at Microsoft, has told gamers not to expect a radically different look when compared to current Xbox generations that are on the market. Instead, the ray tracing technology will allow for a huge improvement in frame rate and latency. The combination of the two things will allow for a more impressive gaming experience, though, which is why it's such a key aspect of the console.
3D Audio
Imagine for a moment that you're playing a game in which someone is following you. The 3D audio technology that Microsoft have employed on the Xbox Series X will make it sound as though the really are behind you, to the extent that it might freak you out on certain games. The combination of the 3D audio and the ray tracing allows for a truly immersive gaming experience, with users benefitting from the leaps in technological advancements.
Advanced algorithms are used to create this spatial audio experience. You'll feel as though noises are coming from all around you, depending on what's happening in the game that you're playing. This is particularly exciting when playing some of the games that have been created to take advantage of it, plunging you into new worlds and thrilling experiences. Imagine hearing players shouting to you in FIFA, for example, or aliens attacking you in Halo.
A New Look
The internals of the new Xbox Series X are seriously impressive, but the outside is arguably even more noteworthy. The new-look machine is a black box of sleekness, complete with a grille on the top for air-flow purposes. It is monolithic in its look, designed to stand tall vertically and measuring 301 millimetres by 151 millimetres by 151 millimetres. The disc tray sits at the bottom right of the front of the device, beneath the Xbox insignia.
Power
In truth, there's not a huge heap more to tell you about the new Xbox's look. It is, essentially, just a black tower. It's not less impressive to look at because of that, but it does meant that finding things to say about its design is tricky. Instead, we're best of looking at what that sleek new design contains, which includes an 8x Cores @ 3.8 GHz (3.6 GHz w/ SMT) Custom Zen 2 CPU processor and 12.15 TFLOPS, 52 CUs @ 1.825 GHz Custom RDNA 2 GPU.
It has a 16 gigabyte GDDR6 memory and 1 terabyte custom NVME SSG storage. There's also a 1TB expansion card, should you wish to improve the storage capacity. The optical drive is a 4K UHD Blu-Ray drive, meaning that it can play your games, Blu-Rays and DVDs and CDs. Most games will run at 60 frames per second in 4K, but certain ones will have the ability to shift to 120 frames per second and an 8K output.
Smart Delivery
Microsoft have announced that they'll also be releasing a new system called Smart Delivery with the Xbox X Series. This is, in essence, the company's way of encouraging users to update to the new console. Smart Delivery promises that users will be able to play the best version of a game, regardless of which platform they bought it for. So if you happen to own an Xbox One right now and choose to buy Halo, you'll get the Xbox Series X version of the game when you buy that.
The key thing, of course, is that it won't cost you anything additional. The second that the game you've bought for your old device becomes available, it will be available for you to download. As long as the publisher of developer of the game chooses to make Smart Delivery available, it won't matter whether you've bought the game digitally or as a physical disc. It will even be available for the Xbox Game Pass titles that leverage it.
Backwards Compatibility
Microsoft has confirmed that the Xbox Series X will be able to play not only Xbox One games, but also those that were available on the original Xbox and the Xbox 360. That means that you will be able to play four generations' worth of games, including those that were released nineteen years before the latest iteration of the console. Obviously that's really impressive and a bold statement from the company, but it's not quite as it seems.
Games that used the now-defunct Kinect Motion Sensor, for example, won't work at all. On top of that, not all of the games from every version of the console will be available to play. At the time of writing, just 39 games from the original Xbox will work on the Series X. It's slightly better when it comes to the Xbox 360, with 568 games currently available. They will be adding more over time, though, so that's worth keeping an eye on.
Controller
It would be untrue to suggest that Microsoft have completely redesigned the controller for the Series X, with the device bearing striking similarities to the previous controllers. In fact, old controllers will work with the new console, so it's not even as if you'll need to use the new ones to take advantage of some major improvements. That being said, it is an evolution of what has come before and the tweaks made definitely make it better.
The Xbox controller has always been a chunky thing, but the new ones will fit smaller hands slightly better. The triggers have small dots on them to improve their grip, whilst the buttons now have a matte finish. The biggest change comes in the form of the D-pad, which is a weird cross between a four-directional pad and a rounded diagonal pad, boasting a slightly dipped shape. It also boasts a USB-C port, to let you charge it and play at the same time.
Xbox Series S
Just as Sony are releasing both the PlayStation 5 and the PS5 Digital Edition, so too are Microsoft bringing out a digital version of their latest console. The biggest difference, however, is that the digital version of Microsoft's newest machine is not all that similar to the 'full-fat' version. Buy the PS5 Digital Edition and you're essentially getting an identical product bar the lack of a disc drive. The same is not true with the Xbox Series S.
The fact that the console has a different name is probably something of a hint at what to expect. It is not only smaller than the Series X but also doesn't look anything like it. For starters, it's white apart from the black grille on the top, which makes it look a bit like a speaker when you first see it. Yes, you can still take advantage of Smart Delivery and it's an upgrade on the Xbox One, but it's not as good as the Series X and isn't that much cheaper.
For starters, the S has the same customer Zen 2 8-core processor, but it will run at 3.6GHz (3.4GHz with multi-threading). The S also has a 4 teraflops (20CUs at 1.565GHz) of RDNA 2 graphics processing unit, which is eight teraflops less than the Series X has on offer. 16 gig of RAM in the X compared to 10 in the S will also make a difference to gameplay. That might explain why the S will be locked at 1440p rather than the 4K resolution the X is getting.
The S will still be able to use ray tracing and 3D audio, it just won't be as good to look at as games played via the Series X. On top of that, the Series S will have a 512 gig Solid State Drive rather than the 1 TB on offer in the X. It will support the expansion card, but having to buy more space simply to support games that you'll want to be playing does seem to defeat the object of having a smaller drive to save money in the first place.
Which Is Better: Series X or Series S?
Where Sony have given people a genuinely tricky choice between their PS5 and the PS5 Digital Edition, Microsoft haven't done the same thing when it comes to the decision between the Xbox Series X and the Xbox Series S. If you want the greatest game playing experience on the market then you're going to have to shell out the extra money for the Series X, it really is as simple as that. If you do so then you're in for a treat, of that there's no question.
It's not that the Series S experience won't be a good one, it's just that it won't be as impressive as the Series X and game-designers will always be aiming their creations at the bigger and better console. Regardless of which one you go for, the likes of ray tracing, 3D audio and the overall improvements to the device will mean that you'll notice an immediate upgrade from the likes of the Xbox One. The upgrade, if you opt to make it, will absolutely be worth it.