The year 2020 has brought us many surprises, but so far we have yet to see many benefits. With many of us still stuck at home after a disappointing year, we are hoping retailers be feeling generous come November.
What Date Will the UK's 2020 Black Friday Sales Start?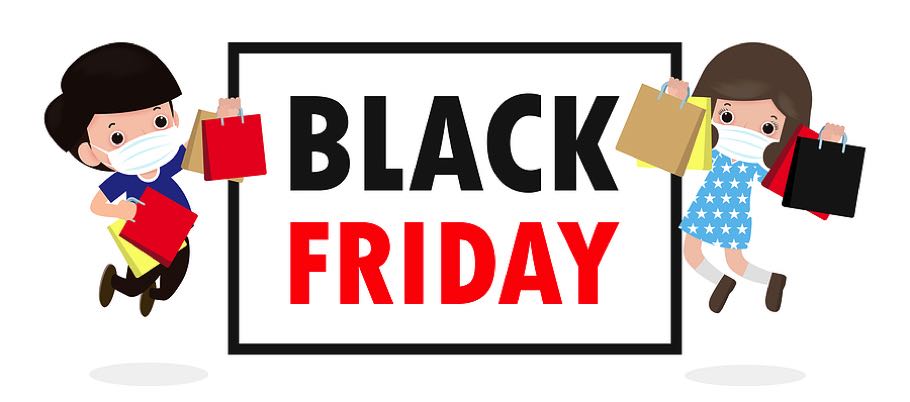 Traditionally, Black Friday has always been the day after Thanksgiving on the fourth Friday of November. In 2020, that would theoretically land on Friday 27th November. Whilst that tends to be the focal point for many of the best deals offered in the US, here in the UK, our shops tend to spread out the event over a series of weeks.
Amazon, for example, have been starting their Black Friday sales a week or two prior to Black Friday with new deals being offered every day. Other shops, such as Argos & Curry's, have launched a week before Black Friday with the promise that nothing will be further reduced on Black Friday itself.
Keep An Eye Out from 20th November
With Coronavirus a looming threat, shops will be keen to reduce their foot traffic in their high street locations and spread out the event as much as possible in order to maintain social distancing and ensure a Covid-secure venue. Our guessing is that most shops will release their proper deals one-week leading up to Friday the 27th to ensure the event goes ahead safely with no overcrowding. We would recommend starting your search from the 20th of November onwards.
Whilst shops never confirm their dates or deals in advance, we have a sneaking suspicion that the deals released in advance will be the same ones on Black Friday. This will encourage people to 1) shop online at their leisure, and 2) not all flood to the shops on the same day.
Cyber Monday Signals the End of Sales
The sales will continue throughout the entirety of the fourth weekend of November (Friday-Monday) with the Monday afterwards traditionally known as Cyber Monday. Here in the UK, the sales are all online anyway, so Cyber Monday doesn't exactly hold the same meaning. It really just tends to mark the end of the Black Friday sale event for many UK retailers.
How Has Coronavirus Affected Shopping in General?
In the wave of Coronavirus, unfortunately, we have lost many retailers along our beautiful high streets and many companies have closed local branches in an effort to focus online. Debenhams, for example, who went into administration in April, has had to close around 20 of their high street branches this year, as well as their Northern Ireland shops, but are still afloat – perhaps attributed to the surge of online shopping this year and the fact that we haven't had much else to do.
The Great British Queue
Whilst the Brits were already masters of queuing, Coronavirus has really honed our queuing skills, with most shops implementing a system to keep their patrons two-metres apart, shown by stickers or guidance on the floor. With Black Friday, we are likely to see longer queues purely because of the space needed in between each customer.
How shops along a high street can do this safely is a different question entirely, but we believe most people will head to their laptops, rather than the shops, especially now with the extra restrictions coming into place in certain areas across the country.
How Will Coronavirus Affect Black Friday?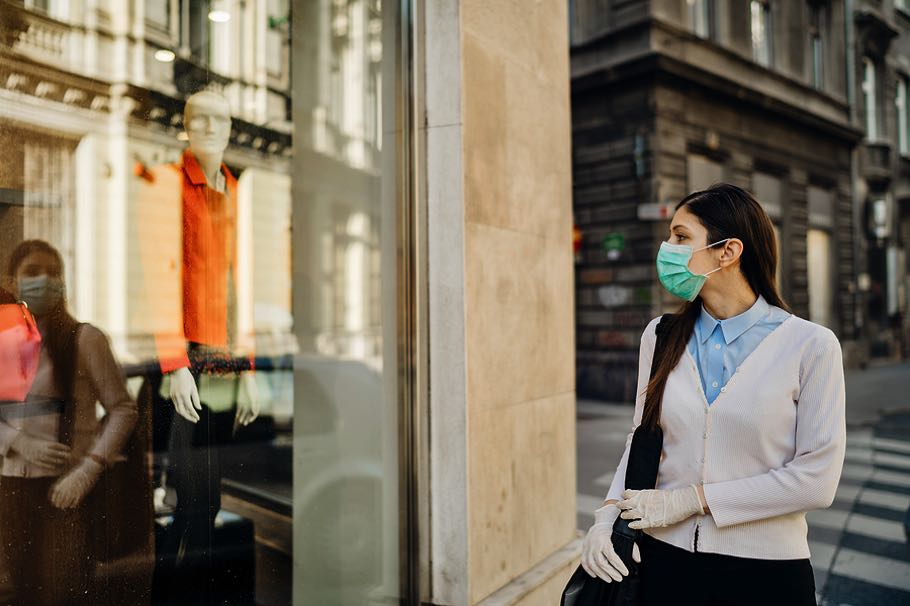 Black Friday in the UK started out as it did in America with giant queues and one-day specials with some people very sadly getting trampled, literally and figurately, in a wave of chaos. But, in true British fashion, we decided this was not a polite way forward and implemented more online sales with no special deals or offers being available in shops that weren't also available online. ASDA, for example, which started the UK November shopping craze in this country pulled out completely and hasn't participated since 2014 due to the chaos that ensued. It has firmly maintained that it will not participate in Black Friday going forward.
So, most shops here in the UK are already set up for pandemic life, offering their sales both online and in shops, spread out over a couple of weeks in November.
A Shift Online
The Evening Standard reported a "75% increase in online shopping due to the pandemic" and are expecting sales to "skyrocket" during Black Friday. They report that "instead of queueing outside, many shoppers will this year be glued to a screen as sales begin".
As told to the Standard, Halfords chief executive, Graham Stapleton, states: "Black Friday is predominantly an online event. We tend to see significant growth online. We don't tend to have an issue with big crowds in stores on Black Friday so it's not a problem, but it might be a challenge for other retailers who do not have big online businesses".
What the Leading Players Have to Say
Of course the real concern is that if consumers decide to head to the shops instead of heading online, will it be safe? In the UK, to run a face-to-face business in the Covid-era is a different ballgame. It is imperative that you follow certain guidelines to ensure that your venue is Covid-secure. Of course going to the shop doesn't completely eliminate the risk of catching the virus, however, shops must follow certain criteria to help minimise the risk to its customers. This includes keeping customers 2 metres apart, wearing face masks, deep cleaning, etc.
Currys PC World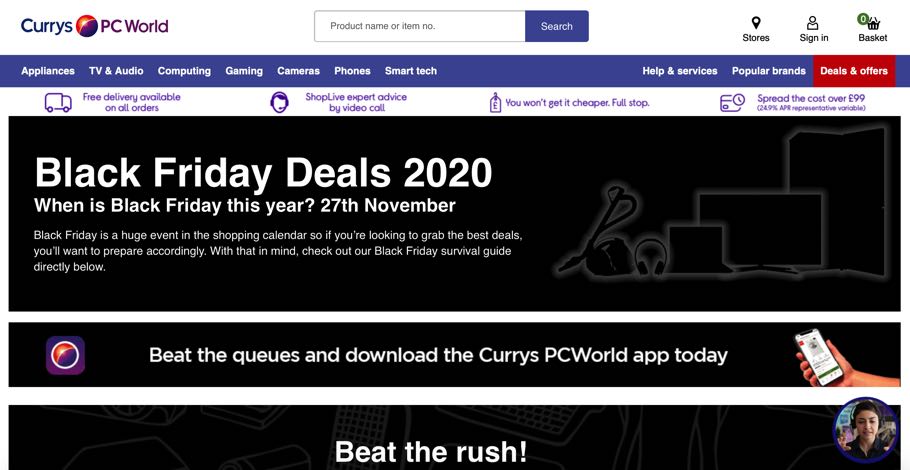 Currys PC World will be going ahead with their Black Friday event but dates have not yet been released. We suspect, based on their sales from previous years, that they will launch one-week before Black Friday and encourage online sales over in-store purchases. We reached out to their customer service to ask how they would prevent a flood of shoppers during Black Friday and they replied with the following:
Black Friday will certainly be happening, but I'm assuming we'll know more once the event's approaching. Social distancing will be kept as usual, but in this case, the queues will probably be a little longer than what they used to be (pre-COVID).
Expect longer queues if you decide to venture in store. But, better yet, you can shop online from the comfort of your own home for the same deals – germ free!
John Lewis & Partners
Asked the same question John Lewis gave us the careful corporate answer:
We'll share any confirmed plans on our website nearer the time and will be ensuring social distancing measures are fully adhered to in our shops.
But on their Black Friday page, it looks as though it'll be business as usual come November.
Argos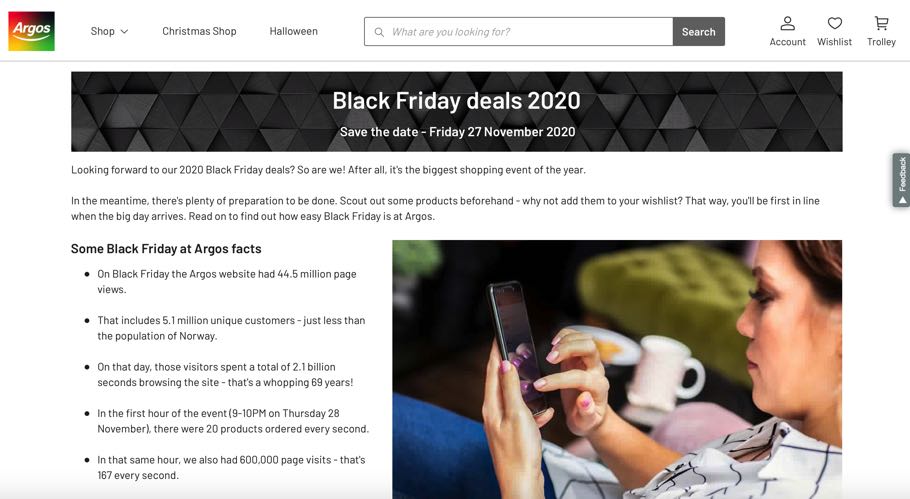 Argos Black Friday customer services also refused to give us any information, however, their Black Friday page indicates that they are going full steam ahead.
Amazon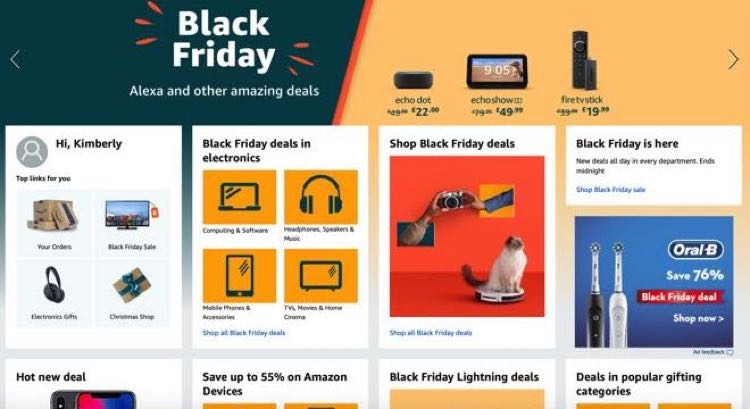 We include Amazon, because they truly are the king of the Black Friday sales, but they have absolutely no concerns of having to maintain social distances due to their business being exclusively online. Expect their sales to go live one-week before Black Friday with new deals being announced daily.
But, Was Their Prime Day Better?
With regards to Amazon's "Prime Day" on October the 13th and 14th with exclusive sales for their Prime members, they confirmed that "throughout Prime Day, members can shop with confidence that they're getting low prices that won't be beaten this year". This means that the prices on Black Friday won't be any better on the items they reduce for Prime Day, however, there are far more items on sale during Black Friday, so if you've missed out on Prime Day, have no fear.
Popular brands like Sonos, Apple, KitchenAid and Le Creuset were hardly included (if at all) in the Prime Deals. Have a look at our article comparing Black Friday and Prime Day and you'll agree that Prime Day was pretty uneventful in comparison to November.
So, Will Black Friday 2020 Be the Biggest One Yet?
Based on Google searches for Black Friday just in October, we would say that Black Friday 2020 is going to be a big one. Will it be the biggest one ever? Well, it's hard to know exactly, but definitely in the UK we are seeing way more search traffic than in previous years, signalling interest. Also, with a lack of holidays taking place and more people working from home, shopping on and around Black Friday will be much easier to do without your awkward boss lurking over your shoulder.