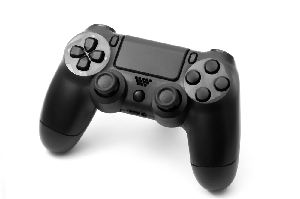 Released in November 2013 to worldwide acclaim, the PlayStation 4, or PS4 for short, was the latest iteration in Sony's gaming empire at the time. It has since been replaced though by the PS4 Pro and, more recently in November 2020, the famous PS5. If your son or daughter is looking for a Playstation, you will want to have a look at the most recent model on the market – the PS5 – as the PS4 series was discontinued in January 2021.
Latest Playstation Console: PS5
Please note that in January 2021 Sony stopped manufacturing all PS4 consoles.
Shops With PS4 Offers
Playstation 4 Buying Guide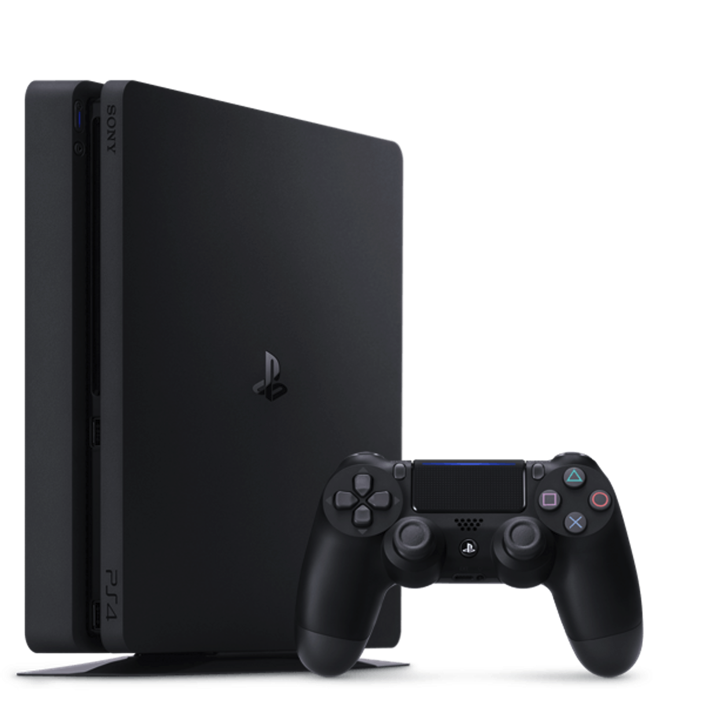 Here we're taking a look at the features of the machine and what you should be looking out for when you hit the shops. The latest PlayStation is the 4th in the series from Sony, with the first being released over 20 years ago in December of 1994. Sony has changed the way the chipset now works, moving away from the cell architecture that it employed for the PS3.
It now comes in three different colours: a sleek black, a crisp white and a retro grey – though the latter is harder to find and extremely expensive, as it was a limited edition release. If you were to purchase one then the box would contain the console itself, a DualShock 4 controller, a micro-USB cable for the charging of the controller, a headset, the AC power cable and an HDMI lead to connect the console to your television.
PS4 Specs & Features
The PS4's processor is an AMD processor, which was partially developed by Sony. Is has a Jaguar CPU and 8 gigabytes of GDDR5 memory. The RAM is 16 times faster than the RAM of the PlayStation 3, which allows for much faster gameplay.
Sony's hope when developing the console was that they could, essentially, future-proof it for at least a good few years. By putting top of the range features into the system they have tried to ensure that the console won't be out-performed any time soon.
A secondary chipset in the machine handles downloads and uploads, as well as social gameplay applications. The audio module in the console allows for audio streams, as well as online in-game chat via the supplied headset and DualShock 4 controller.
Sony have also introduced different power options, including the ability to put the machine to 'sleep', allowing it to charge your controller and download things in the background.
The optical drive in the console has carried on where the PS3 left off, allowing you to play both DVDs and Blu-ray discs – though it will play Blu-rays three times faster than the PS3 could, buffering as it goes. Photos and videos can be viewed up to 4K resolution, as long as your TV can handle that, obviously. The hard-drive is 500GB in size.
Connectivity
The PS4 offers both Wi-Fi and Ethernet connectivity, allowing you to get online for gameplay, as well as to download apps and games. It also uses Bluetooth technology to connect the controllers to the system, and they can also be connected using the supplied micro-USB cable. You need to use the cable to charge the controller, but they'll work wirelessly for gameplay.
There is an auxiliary port that you can use in order to connect a PlayStation camera to the console, as well as an HDMI connection and an optical S/PDIF audio connector port.
Remote Play
One of the most thrilling features that the PS4 offers is the ability to play remotely via the PS Vita. The handheld console can connect to your PlayStation 4 and allow you to control it and play games even when you're not in the same room as it. As long as you have a reliable and strong Wi-Fi connection then you can use your PS Vita for remote play of your PS4 games. A remarkable thing when you think about it.
Accessories
As with any purchase nowadays, the makers are hopeful that they'll be able to get more money off you by encouraging you to purchase some additional extras in the form of accessories. Some of them are worth considering, whilst others might be better left until you've bought everything else and have some money burning a hole in your pocket. Let's take a look at the main ones.
DualShock Controller
The PS4 comes with one DualShock controller as standard, but everyone knows the real joy of any gaming console comes from its multiplayer capabilities. With that in mind, you'll want to look to pick up a second controller ASAP.
The DualShock controller 4 has been redesigned and differs quite markedly from its predecessor. Amongst other things, the designers have introduced a new touch pad, which not only allows for different gameplay experiences but can also be used as a button in itself.
Sony have also abandoned the 'start' and 'select' buttons that were present on the previous controller, instead opting for a 'share' button and an 'options' button. The 'share' button allows you to record gameplay, take screenshots and also share your gameplay footage via social networking sites such as Facebook.
There is also a lightbar on the controller that is a different colour for different players, so there's no confusion if you put your controllers down next to each other, for example. Do be aware that this causes the battery in the controller to run down a bit quicker than normal, though, so you might want to dim the light to give yourself some extra juice.
The DualShock 4 controller also features a built-in speaker that gives off-screen gameplay sound effects. It also has a headphone jack, allowing you to plug in the supplied hands-free headset so that you can talk to opponents during online gameplay.
Finally, the controller can vibrate during gameplay to give you the sense that you're involved in the action. In a football game like FIFA '15 the controller will vibrate if a shot hits the crossbar, for example, or will vibrate intermittently if you are taking a penalty in a high-pressure situation. It's a fun and slightly silly feature, but you'll certainly feel more focussed if your team is about to lose the FA Cup if you miss your spot kick and the controller is vibrating in your sweaty hands!
The PlayStation Camera
Redeveloped for use with the PS4, the new PlayStation Camera can be a fun addition to your gaming needs, but is far from a vital one. It features 2 cameras with wide-angle lenses and high-sensitivity. The camera is able to tell where players are in relation to each other during gameplays and also has the ability to re-arrange the screen in multiplayer mode on some games.
One frivolous but fun aspect of the PlayStation Camera is its ability to use facial recognition in order to figure out who is who. It will pick up on your facial features when you are trying to log on and recognise you automatically.
The PlayStation Camera also features a microphone that will allow for voice recognition. This means that you can verbally tell the PlayStation which apps to open or games to play. Again, frivolous, but good fun. This can also be achieved using the hands-free headset plugged into the controller, but that isn't always going to be in place for you to use it consistently. Still, worth bearing in mind if you love the feature but don't want to shell out for a PlayStation Camera.
PS4 Headsets
Another thing you might want to explore but definitely don't need – unless you live in a library – is a PS4 headset. Plenty of multiplayer games on the PlayStation 4 are given a boost with the use of in-game chat, so a decent set of headphones could be a welcome addition if you plan to play such games regularly. There are plenty of PS4 compatible headsets that you can buy, so consider your price range, whether you'll actually use them or not and what type of headset you'll find most comfortable before you look to take the plunge.
Charging Station
If you think you're likely to use your PS4 heavily and you don't like the aesthetics of plugging the DualShock controllers in via wires in order to charge them, then you might want to consider picking up a charging station.
There are a number of charging stations available on the market with most charging two controllers at once using a cradle system. Some will plug into the wall whilst others will use the PS4's built in USB connection to charge your controllers. They are normally designed to match the look of your PlayStation 4, so they'll fit in well next to your machine.
PlayStation Plus Subscription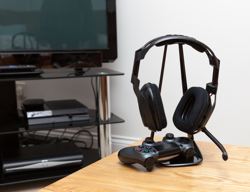 The final one here isn't really an accessory as such, but can be considered to be a vital part of the PlayStation 4 experience. That is because you need a PlayStation Plus subscription for most online gaming on the PS4. Sony have abandoned the free online gaming they allowed with the PS3 and followed the Xbox's lead by charging people to play games via the Internet.
If you have a PlayStation Plus subscription then you will get free games every month that will last as long as you remain subscribed to the network, as well as discounts on games in the PlayStation Store.
You don't need a PlayStation Plus subscription in order to download or use the different apps available on the PS4, though, so if you don't think you're going to play many games online then don't worry too much about a subscription. They're pricey, which is fine if you're likely to be online a lot, but not completely necessary if you don't see yourself as a multiplayer or online gamer.
Apps
There are a myriad of apps available on the PlayStation 4. So many, in fact, that we won't list them all here. The important thing to realise, though, is that you can use your PS4 for more than just gaming.
The principle thing the apps will allow for is watching TV. From Amazon Instant Video to Netflix, via Sky Go and Plex, there are a host of apps that you can download in order to watch films and catch-up TV. There's a BBC iPlayer app that has been designed especially for the PS4 and works really well.
The Sky Go app is excellent and allows you to take your Sky subscription with you if you go on a UK holiday or tend to do a lot of caravanning, for example. Meanwhile the Netflix app is exactly what you'd expect from the leader in the field of online television.
In recent weeks Spotify have also released an app on the PS4. It allows you to use your Spotify account exactly as you would through your phone or tablet, but takes advantage of your television's speaker system. This is especially good if you have set-up a decent sound system in your home.
Games
Much like with the apps, there are far too many games to mention them all here. Sufficed to say, though, if you love a particular type of game then there's no question you'll be able to find it on the PS4.
As one of the best consoles on the market, the games available on the PS4 are plentiful and of the highest quality. From Alien: Isolation through to DriveClub via Final Fantasy 14 and FIFA, the graphics you'll find on PS4 games are second to none.
Bundles
The final thing worth mentioning here is the prevalence of bundles in the way that PS4s are now sold. Typically shops will offer you a bundle package that will include not only the console but a game or two as well. More often than not you will be offered a selection of games to choose from, and some bundles may offer something like an additional DualShock controller too.
If you're seriously considering buying a PS4 then it would be well worth investigating the various bundles available, as this will not only ensure you get a game or two with your PlayStation 4 but will also save you a little bit of money, too.