In addition to running ten days of black friday deals, Amazon will also be operating a physical shop in London's Soho Square. So what exactly does an Amazon Shop look like on the high street? We sent one of the team down to check it out…
This actually isn't the first time Amazon have dabbled in bricks and mortar retail. They already run a series of bookshops in the US and they've set up a grocery store in Seatle that operates without checkouts (you just scan your items and go). But to date most of these ventures have been stateside making their Black Friday pop up store here in London a bit of a novelty.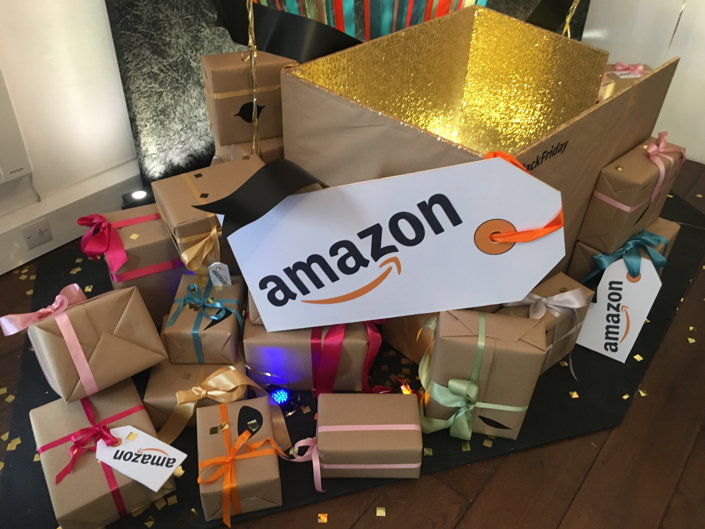 Where and When is it?
You can find the store on the north side of Soho Square, a short walk from Tottenham Court Road station. The shop will be open from Tuesday 21st to Friday 24th November 2017.
What's Inside
The shop has been made to look like a house and is divided into a series of rooms including a sitting room, games room, bedroom and kitchen. Each room contains a selection of items relevant to the theme with an army of assistants on hand to explain what's going on and how it all works.
Can You Buy Things in the Store?
This is where the definition of shop becomes a little loose. You can't actually buy any of the items directly from the store as they're for display purposes only. However, each item is tagged with a QR code which can be scanned using the Amazon app. This will pull up the item on your phone ready for purchase and delivery to your home.
What Else is There?
In addition to the products the rooms contain a variety of other attractions including free mince pies, lollys and hipster-friendly juices. Plus two of the rooms run games where you can have a chance of winning prizes ranging from a toothbrush (?) to a tablet.
Hidden in the back was also a candle making demonstration. We're not really sure why this was there, but if you like candles then head on down!
The bedroom also housed a mini salon housed by staff from Toni & Guy and was crammed with 20-somethings having their hair, nails and makeup done. Unfortunately due to the number of people in the room getting a decent photo proved elusive, so you'll have to use your imagination.
So that's pretty much the long and short of it. For the most part it is a bit of a gimmick but worth dropping in if you're in the area and fancy a nose. It runs until 7:30pm on Black Friday.