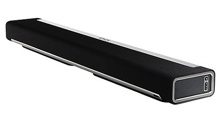 Sonos is one of the leading brands for HiFi wireless speakers and home audio systems, so if you're in the market for a high quality soundbar or a multi-room music system that you can control with your smartphone, then look no further. Additionally, their speaker systems are wireless and connect to your home's Wi-Fi system, leaving your home tidy and cable free.
See Also: Bluetooth Speakers | Soundbars | Televisions
Shops With Sonos Offers
Sonos Buying Guide
It used to be one of the first things you would unpack or install when you moved to a new home. Straight after you found the kettle and started making yourself a cup of tea you would set up your home stereo system so that you had some music to dance along to as you did you unpacking. From vinyl turntables for your latest LPs through to the short lived fad of the mini-disc, there have been numerous iterations of the home stereo. Then the invention and rapid dispersion of personal computers, otherwise known as laptops, started the slow strangulation of the home stereo system.
People no longer needed to make mix-tapes to play through the loud speakers in their lounge, nor did they need to have dozens of wires tucked underneath carpets and rugs in order to link all of their speakers to their system. Instead they could just put their computer in the middle of the room and play whatever songs they wanted to. So, how can the home stereo system find a place in this new world order? What do manufacturers need to do to reclaim an audience that has been lost to iPhones and tablets? They need to re-invent themselves, of course!
That's where the Sonos system comes in. Billed by the company themselves as devices to give you "All Of Your Music, Everywhere", the Sonos speakers work through your home's wireless network to let you play your music all over your home. In this buying guide, we'll be explaining all of the different Sonos speakers available, exploring what they offer you and helping you to decide which ones are right for you. Hopefully, we'll be comprehensive enough to mean that when it comes to buying a new Sonos system for your home you'll know exactly what you're looking for.
The System Explained

The Sonos system is designed with digital music in mind. Given that the majority of people now listen to their music through a device such as an iPod, tablet or computer, this makes complete sense. The system also caters to those that subscribe to online services, such as Spotify. The company also keep on top of developments in this field, so the arrival of services like Apple Music are also catered for not long after their arrival on the scene.
The idea is quite simple: You install Sonos speakers wherever in your home you'd like to be able to listen to your music. The speakers link up to each, as well as to your digital devices, via your home's Wi-Fi network. You then have a choice as to whether or not you'd like to play a different song in, say, the kitchen from the one you're playing in the lounge, or whether you'd like the same tune to emerge from all of the speakers in the house.
Sonos offers a series of different speakers depending on how you want to use them, and you can also set them up as a surround sound system to work alongside your television if you want to. You can control up to 32 different speakers with your mobile telephone. Not bad if you love your sound!
The Sonos system allows you to have top quality sound wherever you want in your home with a minimum of fuss. Moving your laptop around might not bother you too much, but is it as convenient as just pressing play on your mobile? It definitely won't sound as good as a dedicated speaker, and parties will be transformed by being able to have the same song playing in the bedroom as in the kitchen – and the best party's always in the kitchen.
The Different Sonos Speakers
Sonos Era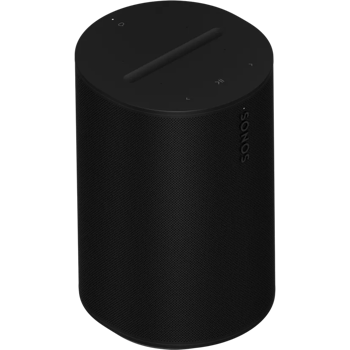 Sonos is the sort of company that is constantly looking to innovate, which is where the Era range of speakers come in. The Era 100 is essentially the next version of the ever-popular Sonos One, but with added Bluetooth streaming and stereo sound. It has been redesigned from the ground up, offering a speaker that has nothing of the old One within its materials. It maintains the same clean and minimalistic look that Sonos is known for, with the shape being more oval than anything. It is an inch taller than the One, also being a touch heavier, but it is still perfectly compact.
You can get it in the matte black or matte white look that the company has become known for, whilst the shape is what it is in order to accommodate new drivers that allow for stereo sound. There are two angled tweeters that have custom waveguides, plus a woofer that is 25% bigger than the one in the One. All three drivers in the speaker are powered by class D amplifiers of their own. It means that this model sounds louder and offers more power than the old model, whilst an update to the interface and on-unit controls make using it a much more satisfying experience.
In addition to the Era 100, there is also an Era 300. It is designed to be something of a mid-range point between the Era 100 and the Sonos Five. As with the 100, the Era 300 comes with Bluetooth technology to mean that you can hook Bluetooth compatible devices up to you system. The 300 is also Dolby Atmos-ready, meaning that you will feel as though the sound is being genuinely positioned around the room. This premium speaker sounds amazing when it gets good quality music or other sound played through it, so you absolutely get what you pay for.
The Era 300 boasts a processing platform with 4GB of RAM and, as with the Era 100, it has a USB-C port that allows for the connection of other devices. It also has Wi-Fi 6, meaning that it can stream faster than ever before. If you want to take advantage of the presence of Dolby Atmos then you'll need to use a music streaming service that is compatible with it, but when you do you'll be able to notice the difference in your listening almost immediately. If you wish to, you can pair two Era 300s to make a more elaborate spatial audio system or combine them with other Sonos products to create a 7.1.4 channel surround sound home theatre system.
The Sonos Play: 1
The Play: 1 is a new addition to the Sonos family. Its main function is to offer high quality sound in a small form. It fits a mid-woofer, tweeter and two class-D amplifiers into a speaker that is just 161.45 mm x 119.7 mm x 119.7 mm and weighs a mere 1.85 kg.
The idea behind the Sonos Play: 1 is to give you wall to wall sound. It's ideal for a smaller room, or to use as part of a surround sound speaker set up. It only offers a mono output, but you can pair it with another one to give yourself stereo sound. The Play: 1 has a continuous curve grill, which allows for a wide sound projection. That means you can put it in any number of different positions around your home and it will offer a great sound.
Though the major feature of Sonos is the way that it interacts with all of your devices, meaning you can control it with you mobile or tablet, it does have buttons on the device itself. On top of the device there is a volume button, as well as a Play/Pause button. The latter can be used to start and stop the music as well as to move through your tracks. One press will, as you'd expect, play or stop the music, whilst pressing it twice in quick succession will move on to the next track.
The Play: 1 doesn't have a line-in or a headphone jack, so you can't plug in an external device or use it to listen to your music via headphones. That said, why would you want to buy a top notch speaker that can fill the room with sound and then stop anyone else from hearing it? Its small size means you can put the Play: 1 anywhere, from on top of a bookshelf to next to your cereal in the kitchen. It is also wall mountable as it has a standard, quarter inch 20 threaded insert, allowing it to be placed on most normal wall-mounting brackets.
The Play: 1 is the cheapest of the Sonos speakers, so it can be considered to be an entry level device. Don't think that cheap means poor quality, however. The speaker offers a surprisingly well-balanced, punchy sound for what is a small device. It won't fill a large village hall with sound, but it would be an ideal addition to a conservatory, lounge or kitchen, for example.
The Sonos Play: 3
The Play: 3 is a step up from the Play: 1 and, as you might expect from the name, it contains 3 integrated speakers, each with their own amplifier. It also has a tweeter and is supplement by a bass radiator, allowing it to offer more oomph with the lower frequencies of you record. It offers the same simple set up as the Play: 1 but with plenty more room filling sound.
The main thing of note about the Play: 3 is that it can be placed vertically or horizontally, making it a touch easier to find somewhere in home that it can fit without being overly obtrusive. Even more impressive is the fact that the speaker's internal sensor will know which way around you've got it and adjust its output accordingly. Much like the Play: 1 you can pair two of them together for a tremendous stereo sound.
In 2013, What Hi-Fi? reviewed the Sonos Play: 3 and gave it 5 stars, naming it the best multi-room streaming system on the market. It delivers a pure, clean sound wherever in the home you place it and, because it's bigger than the Play: 1 it can fill bigger rooms than its smaller cousin. You can also optimise the sound performance produced by the speaker with room specific bass, balance, treble and loudness control.
The Sonos system is designed to be 'always on' and, therefore, uses a minimal amount of electricity when it's not playing music. The Play: 3 has the same button configuration as the Play:1, which is to say it has a Play/Pause button for starting, stopping and skipping your music, as well as a volume control button. Dimension wise, the Play: 3 weighs in at 2.6 kg and measures out at 132 mm x 268 mm x 160 mm. Just like the Play: 1 it can be wall mounted on most standard wall mounts as it features a quarter inch, 20 threaded mounting socket.
The Play: 3 is a step up from the Play: 1 and its price reflects that, but bear in mind that you're getting what you pay for. It's ideal for larger rooms and offers a smooth, midrange sound with decent bass. If you're looking to pick up just 1 speaker to begin your Sonos family and aren't sure whether the Play: 1 will give you enough sound for your home then the Play: 3 is the one for you.
The Sonos Play: 5
Without doubt the biggest and best of the Play group of speakers, the Play: 5 is the daddy of them all. Following the pattern of the previous two Play devices in the series, the Play: 5 contains 5 individual speakers coupled together with 5 different amplifiers. It also contains a subwoofer, offering powerful bass sounds, two mid-range drivers and two tweeters to complete the sound output.
The Play: 5 is the speaker that will be the centrepiece of your Sonos family. It is the kind of device that offers large, crystal clear sound that can make you feel as if you're floating on your music. The sound is full-bodied, clean and with an impressive bass. The sound from the Play: 5 will be enough to fill a large room, so if you are looking for something for an open plan home or an office environment then this is the one you want. On Sonos' own "How loud?" scale the Play: 5 is rated as "crazy loud", so that should give you some indication of what you'll be getting yourself into here.
Just like the Play: 3 What Hi-Fi? gave the Play: 5 five stars when it reviewed it the device and declared it to be "as close to Hi-Fi as Wi-Fi gets". Unlike the other options, however, the Play: 5 offers you an audio line-in for an external device and a headphone jack, allowing you to plug in your own headgear for when it all gets a bit too much. Just like its family, it offers a Play/Pause button for starting, stopping and skipping through the tracks that you're playing, as well a volume button to higher or lower the sound output it's offering. It also has an acoustic port that not only improves the sound output but also acts as a ready made handle for if you want to move it around your home.
The back of the Play: 5 also features 2 Ethernet switch connectors, meaning that you can use a Category 5 Ethernet cable to connect the box to a router, computer or even a Network Attached Storage unit (NAS). Size wise the Play: 5 is the biggest of the various Play devices, coming in at 217 mm x 365 mm x 123 mm and weighing around 4.15 kg. You get an awful lot of bang for the size of the buck, though, with the Play: 5 able to fill most rooms it is put in without too much difficulty.
Again, just like the other speakers you can pair 2 Play: 5s together in order to operate them in a stereo fashion. It's worth noting that if you want to do this with any of your devices then they need to be the same model. That is to say, you can pair 2 Play: 1s together for stereo sound, but you can't pair a Play: 1 with a Play: 3 to be used in that fashion. There's no question that a Play: 5 would be a welcome addition to any home. If you're an audiophile that wants to get your house bouncing along to quality sound with rich bass notes and focussed audio then the Play: 5 will not leave you disappointed.
Sonos Roam

The main problem with the older version – Sonos Move – is that it is big and heavy, so you're unlikely to want to take it with you when you travel abroad, say, unless you have an extra suitcase you can put it in. Thankfully, that problem is solved courtesy of the Sonos Roam, which boasts a full-bodied sound and plenty of features to keep everyone happy. You can hook it up to the same multi-room system as other Sonos products, or you can use it via Bluetooth.
The fact that the speaker is just 17 centimetres in height and weighs a mere 430 grams means that it is perfect for taking it on holiday or to other locations. If you want to, you can even add it to your home cinema system via the Sonos S2 app and take it through to the kitchen whilst you make a cup of team so you don't miss any of the dialogue of EastEnders or commentary on a sports match. Of course, it is designed to be taken to far more exotic places, with the IP67 rating meaning that you can emerge it in one metre of water for around 30 minutes.
The built-in battery can last for around 10 hours from a single charge, which can be achieved courtesy of either a USB-C charging cable, which it comes with, or a compatible Qi wireless charger. On top of the unit, there are buttons that allow you to play and pause music, as well as volume up and down buttons. That is perfect for Bluetooth use, but if you're looking to use it over Wi-Fi then that is where Sonos' excellent app comes into its own. In addition to Bluetooth, you can also use AirPlay 2 to connect to the speaker, which uses a single tweeter and mid/bass woofer.
Should you wish to, you can use the Roam as a smart speaker, given the fact that it boasts the ability to connect to the likes of Amazon's Alexa and the Google Assistant when in Wi-Fi mode. If you wish to switch between mode types, you can simply hold the button down on the back and it will move from one to the other. It might not be the cleanest speaker on the market in terms of sound in certain circumstances, but if you want a quality speaker that is about as portable as it's possible to find then this is exactly what you're after; especially if you are already in the Sonos ecosystem.
The Sonos Move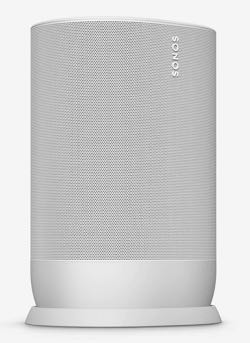 Those that have long been part of the Sonos ecosystem have longed for a speaker that they could take with them, either into the garden or to more far-flung places like a caravan or a friend's house. Whilst the Play: 1 offered that sort of flexibility provided it was dry outside and you had a power point, the Sonos Move has been designed specifically for portability. It is both drop-resistant and weatherproof, meaning that it truly is a portable Sonos device.
The Trueplay tuning that Sonos has created allows the Move to adapt its sound to wherever you locate the device, promising a finely-tuned listening experience at all times. As with the majority of the new generation of Sonos products, the Move has the Google Assistant and Amazon Alexa built-in, offering you the ability to ask it questions, set alarms and play music with your voice. It is also battery-powered, offering eleven hours of use before needing a charge.
Perhaps the key difference between the Move and other Sonos products is the fact that it offers both Wi-Fi and Bluetooth connectivity. The fact that you can take it away with you means that you might not always have access to Wi-Fi, so being able to stream songs from your phone or computer is ideal. Inside you'll find two Class-D digital amplifiers, one tweeter, a mid-woofer and a far-field microphone array to ensure you can hear and be heard as clearly as possible.
Sonos Soundbars
Sonos Ray
Sonos makes quality speakers. Of that, there is no question. The company also offers a decent line in soundbars, with the Arc and the Beam both able to be hooked up to a television to get crystal clear sound. The Sonos Ray is another speaker that fits into this bracket, with the big difference between it and the Beam 2 being that the Beam 2 offers eARC connectivity, whereas the Ray only has an optical input. That means that Dolby Atmos can't be decoded by the speaker, limiting it to Stereo PCM, Dolby Digital 5.1 and DTS Digital Surround in terms of what it can play.
Of course, that's nitpicking when it comes to the experience that you're going to enjoy listening to things through this speaker, but it is important to flag it up early for the audiophiles amongst you. What you can do with it is link it up to some other Sonos speakers in order to make it into a surround sound system. The fact that it can link up to the rest of the speakers in the Sonos ecosystem means that it is just as much part of the wireless multi-room system that the company has made its name for. It will be found in the S2 app just like all of your other speakers, for example.
It boasts soft curves and touch buttons that are easy to use and pleasant to look at, whilst the only thing about it that makes it stand out from the rest of the Sonos range is the fact that the grille doesn't sit flush with the rest of the body of the speaker. It is all about the sound quality, though, and inside you'll find four class D amplifiers that power a range of forward-facing drivers, two mid-woofers and a pair of tweeters that work in split waveguides. That allows for a sense of spaciousness when you're listening to music or hearing the soundtrack of a film or TV show.
One of the notable absences from this speaker when compared to other ones in the Sonos range is the lack of in-built microphones, meaning that you can use voice control to tell it what to do. You can, however, use the microphone in your phone to make use of Sonos' Trueplay system, which measures the acoustics of your room in order to optimise the sound output of the speaker. This is something that is available on all of the Sonos speakers and is well worth using if you want to get the most of out them. If you're looking for a compact soundbar that delivers, this might well be the one for you.
The Sonos Playbar & Sub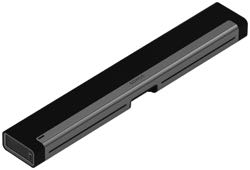 The Sonos Playbar is designed to compliment your HDTV perfectly. As televisions are getting thinner and thinner the quality of sound produced by their speakers is getting worse and worse. The best way to improve the sound from your television is by adding a sound bar to your set up, and the best sound bar you could add is one that can be part of your home sound system – the Sonos Playbar.
The Playbar features 6 mid-range speakers and 3 tweeters, each with their own individual amplifiers. That means 9 speakers are part of the system that fills your home theatre area with rich and beautiful sound.
If it's a home theatre sound system that you're interested in more than speakers that can be placed around your home then be aware that you can add different speakers from the Sonos range to do just that.
Adding a Sonos Sub to the Playbar will provide your home theatre system with deep, rich bass sounds that will bring explosive action sequences to life. It will give you 3.1 audio, and if you add two Play: 1s, for example, to convert it to 5.1 surround sound. You will either need to connect one of the speakers to your home network via an Ethernet cable (there's an Ethernet port on the back of the Playbar) or you'll need to add the Sonos Boost or Sonos Bridge if you want to do that, however.
The Playbar connects to your TV via an optical cable with all of your other devices – such as a Sky box or a PlayStation 4 – connecting straight to the television in the usual manner. The only problem is that optical outputs are a reasonably new addition to televisions, so make sure yours has got one before you opt for the Playbar. The Playbar's design is minimalistic, so it'll fit in nicely to however you've got your home theatre set up. It can be wall mounted, but you'll need to buy a specialist wall mount in order to do that, or laid flat in front of your television. The Playbar itself has built in accelerometers that will detect its orientation automatically and then adjust the sound accordingly.
As you would expect if you've read the details of any of the other members of the Play family, the Playbar has a Play/Pause button on it that can be used to, well, play or pause the music. You can also skip tracks by pressing this button twice. There's a volume up/volume down button the Playbar too, though you'll have to guess what they're for.
The Playbar also offers some rather cool features when it's plugged in to your TV. You can activate its Speech Enhancement function if you sometimes struggle to hear dialogue properly. If you like to watch television at night but worry about how loud the sound is then worry no more. The Playbar has a Night Sound function that adjusts the audio for night time viewing so you can lower the volume but still experience the right range and balance of sound.
Another great feature of the Playbar is the TV Autoplay function. When this is set to 'on' the sound from your TV will automatically play through the Playbar when your television is turned on. It doesn't sound like much, but as you can also use your Playbar to play whatever music you want – as with the other speakers – the Playbar will stop playing music and take up the sound from your TV instead. As you'd expect, the Playbar isn't all that light. It weighs in at 5.4 kg and its measurements show that it's long. It's 85 mm x 900 mm x 140 mm, making it, understandably and predictably, the longest speaker in the Sonos range.
The Sonos Sub is a separate speaker and does not come with the Playbar. If you want to add it to your home theatre system then you'll need to pick one up and add it in. It offers 2 force cancelling speakers that sit face to face and give you a deep sound without the buzz or rattle you might have experienced with other subwoofers. You can stand it upright or lay it flat, and it will work anywhere in your room – even under the couch.
Dimension wise, should you be wondering where to put it in the room, it's 389 mm x 158 mm x 402 mm and it weighs a surprisingly whopping 16 kg. The Playbar and the Sonos Sub are two cracking additions to your home theatre system. If you've already got 2 Play: 1s or 2 Play: 3s then you've also got the basis of a 5.1 channel surround sound system. If you want to bring your films, TV shows and even your gaming platforms to life then this is one of the best ways to do it.
The Sonos Arc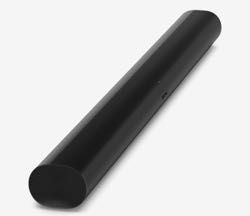 The Sonos Arc is essentially a tweak on the format offered by the Sonos Playbar, insomuch as it is designed to connect to your television and provide an enhanced experience. It differs from both the Playbar, the Playbase and the Beam on account of the fact that it supports Dolby Atmos, which none of the other products do. You can connect it with the Sonos Sub and a pair of Play One, Sonos Five, Play: 1, Play: 3 and Play: 5 speakers for surround sound.
The major sales point of the Arc is that it is intended to provide cinematic sound, so it is the ideal addition to your home theatre experience. That being said, you can still use it in the same manner as you'd use any other Sonos speaker. As a result, you can stream music and radio stations to the speaker via the Sonos S2 controller. You can't connect to it via Bluetooth, but Sonos speakers work best when using online streaming anyway.
With eleven Class-D digital amplifiers, eight elliptical woofers and three single-dome tweeters on board, the Arc is perfectly made to offer a top-notch sound experience. The speaker works with Apple AirPlay 2, plus it has both Amazon Alexa and the Google Assistant built in, meaning that you can control it with your voice. If your television has an ARC/eARC port then you can connect to it via HDMI, otherwise using the Optical Audio Adapter to get your TV's sound through the speaker./p>
The Sonos Beam

Alongside the Playbar, the Playbase and the Arc, Sonos has made a group of products that are all about enhancing your TV watching experience. Each of the products offer something different and are aimed at specific audiences, with the Beam being a compact soundbar that has been specially tuned by Oscar-winning sound engineers. This has been done to ensure that you will always hear every word of dialogue, regardless of what you're watching.
The Beam has four full-range woofers on board, alongside three passive radiators to move the air around and a single tweeter for crisp, clear dialogue. There are also five Class-D digital amplifiers to promote the speaker's natural acoustic architecture. If you're the sort of person that likes to be able to control your speakers with your voice then the presence of the five far-field microphones as well as built-in Amazon Alexa and Google Assistant will appeal.
The more compact nature of the Beam means that it can fit into smaller spaces than the likes of the Playbar and Playbase. Those two products have more speakers and produce a richer sound, but in order to achieve that they're much bigger units. The best way of thinking about it is that the Sonos Beam is well suited to the likes of a bedroom or small lounge, whereas the Playbar and Playbase are far proper home cinema style experiences.
Common Features
All of the Sonos devices mentioned above are easy to set up and can be controlled with the Sonos app – more of that in a moment – and all of them can stream all of the music you have access to.
Want to stream your iTunes music through the Sonos system? It can do that, no problem. Already have a membership of Spotify, Napster, Last.fm or similar? Not to worry, the Sonos knows just how to take advantage of those services. Prefer to listen to specific online radio stations? The Sonos is the system for you, with over 100,000 online radio stations at your disposal for free.
The Sonos App
The Sonos app lets you take control of your home stereo system and allows you to control and explore your music from one place. The app is available on your mobile, tablet and even on your desktop computer, meaning however you connect to your music the Sonos system will work in your favour.
From the main menu you can access all of your music, your favourites, the various internet radio stations available to you and your personal music service like Spotify. The app also allows you to specify how the speakers are set up in each individual room, giving you control over how the bass, treble etc. sounds. It also lets you change the volume in each room, so you don't have to have all of your separate speakers at the same level.
Another great feature of the app is the 'Info' tab. This allows you to read in depth info about the artist you're listening to at that specific moment. From the latest concert dates through to album reviews and artist's biographic information, the app can tell you what you want to know. Finally, there's a 'Queue' function that allows you to take control of what you're going to listen to and when. You can play now, play next, shuffle and repeat all from the same place.
Other Sonos Products
Sonos Connect & Sonos Connect: Amp
The Connect is what you'll want to pick up if you want the Sonos experience but already have a home stereo system installed. It essentially connects your current system to the Sonos ecosphere, offering you all of the Sonos benefits that the main devices give you.
The Connect is the one you'll want for any amplified device you currently own, from a home theatre to a stereo or powered speakers. The Connect: Amp, meanwhile, contains, as you might have guessed, its own Amp. This means that you can connect it to literally any speaker you own and it will amplify the sound for you.
The problem with the Connect system is that it will need to be connected to your router in order for it to work. If your stereo system is already in the same location as your router then this isn't too difficult, just plug the Ethernet cable directly into the Connect. If, however, the speakers or system you want to connect is elsewhere in your home then you'll have to buy a Sonos Bridge.
What It Does
As you'll no doubt have gathered by reading the rest of this page, the Sonos system is an awesome way of updating the HiFi system that you use in your home. But, what about if you spent years creating an excellent HiFi and don't want to have to replace everything you've bought? That's where the Sonos Connect comes in. The idea behind the device is that it allows you to connect it to the speakers that you've already got in place and allow them to join up with the rest of your Sonos network.
Connection
The Sonos Connect offers a number of different, well, connection options. There's the ability to put the system on any analogue, optical and coaxial digital audio outputs. There's also a line-in option, meaning that you can attach the likes of mobile phones and digital music players to the system without any issues.
In terms of how it links in with the rest of your Sonos equipment or with your Sonos app, the device has two 10/100 Mbps Ethernet ports on its rear that allow you to connect directly to your home broadband. That would limit the number of places that you can locate the Connect, so it's also able to log on to your Wi-Fi system if you'd rather ignore the Ethernet cables and do that instead.
Sizing
If you're the sort of person who has bought a HiFi system in the past because of the aesthetics, then you're not going to want to jump into buying a Connect if you're not sure what it will look like in your room. In that sense, it's white with grey buttons, but it's the size of the device that you're likely to be more interested in.
It is 74 mm tall with a width of 136 mm and a depth of 140 mm, meaning that you can either put it in a place of its own or else hide it away easily enough. In terms of weight, the 0.69 kg of the Connect is unlikely to put too much strain on a shelf or side table.
Why You'll Want the Sonos Connect
There are a few things about this device that will attract you into buying it. For starters, you'll be able to link it up to your LP player, for example, and then stream your albums to the rest of your house, giving them a sound and portability like never before. If you've got a ton of records or CDs that have been gathering dust, then you'll nee able to dig them out and give them the re-listen that they deserve.
You can also link the Sonos Connect to an Amazon Echo or Dot. That will allow you to simply ask for the music you'd like to hear and the device will play it for you.
The Sonos Bridge & Sonos Boost
The Sonos Bridge is a device that is designed to create a dedicated wireless network just for your Sonos devices. It allows you to connect all of your Sonos devices to each other, or it lets your Connect or Connect: Amp link to the system when it might not otherwise be able to.
The Sonos Boost does a similar job, creating a dedicated Sonos network in your home by connecting to a router, meaning you can put a Sonos speaker in a location that normally struggles to get Wi-Fi.
If your home contains so many Wi-Fi enabled devices that you sometimes struggle to make the most of your broadband's bandwidth then a Bridge or Boost will be a welcome addition. By plugging the device into your router you'll create a wireless 'mesh' network on a separate wireless channel, meaning that your speakers don't have to run through your Wi-Fi router directly – freeing up bandwidth for your other devices. The Sonos system then connects to any nearby Sonos device's wireless network, so the more devices you have in the 'mesh' network the stronger it will become and the further it will reach.